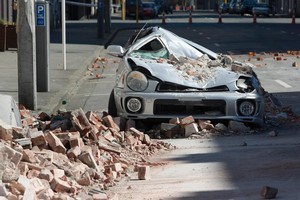 Newlyweds Claire and Craig Hall survived swine flu and the devastating Christchurch earthquake but they have finally been crushed - by thieves.
The Halls and their children Kama, 6, Charlotte, 4, and Noah, nine months, are still struggling to come to terms with the events of the last few weeks.
"It's been a bit of a nightmare," said Claire.
Two weeks before the earthquake, she and her husband got swine flu and Craig was still sleeping in isolation on September 4 when the quake hit and the family evacuated their home.
The house suffered only minor damage but it left the young family shaken.
A few days later they got the next blow. To prepare for another possible earthquake, Claire had loaded up their Honda Horizon with survival kits for the family that included children's toys, clothes, food and necessities.
Also in the car was $500 for rent and $200 to pay off their wedding rings.
The following morning, the car was gone.
"The kids are a bit upset because their clothes and special toys were in there. Stealing from kids is just not on."
The thieves had been inside the house in the early hours and taken the car keys from the bench, along with their laptop, PlayStation and games, said Claire.
Despite the thefts, the Halls' children wanted to say thank you to the police and Army for protecting the central city in the aftermath of the earthquake. That day, they bought lollies and handed them out at inner-city cordons.
The couple, who have been married a month and are expecting their fourth child, were already struggling financially before the thefts.
Two months ago they cancelled their insurance to look for a cheaper provider, so were not covered for the losses.
The theft of their car and possessions meant they could barely afford the basics, said Claire.
"We've been really struggling to find this rent money. It's been a bit stressful."
The same day the car was taken, Craig went to hospital with chest pains and developed pneumonia.
Claire's mother Jan Ruardy, who along with her husband has also been sick, said it was very difficult to see her daughter go through such an ordeal. "I feel absolutely sick for her."