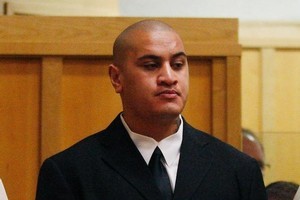 Dressed in a smart black suit and with a tattoo of Jesus etched into his neck, Latu Kepu stood defiantly, seemingly refusing to acknowledge the hurt he'd caused.
The physically-imposing 22-year-old, already serving time for assaulting a police officer and a pregnant woman, was yesterday sentenced in the High Court at Hamilton to a further six years and four months for the manslaughter of prison guard Jason Palmer.
Mr Palmer, a father of three children and a former US Marine, was knocked unconscious when a punch from Kepu sent him backwards, causing him to hit his head on a concrete pathway, on May 15. He died the following day from brain injuries.
Kepu bowed his head when Jason Palmer's uncle, Frederick Church, read out three victim impact statements from family members which spoke of their "extreme emotional pain".
The court heard in a letter from Mr Palmer's wife Tracey how her children were playing in the back of the car unaware of the seriousness of the situation as they drove to Middlemore Hospital to see Mr Palmer after the attack.
After three brain examinations, Mr Palmer's life support system was switched off.
"I held his hand and watched his chest stop moving, his heart stopped beating and I watched his life end," said Mrs Palmer in the letter.
"I felt as if my life had ended too."
In another letter, Mr Palmer's brother Justin said he was seeking psychiatric help to cope.
"I will never get the random phone call from my brother in New Zealand. My son will never meet his uncle and I don't have my brother to go to for advice.
"I never imagined in my life that life could be so cruel to my family."
Justice Paul Heath said Kepu was a "big, strong man with a propensity for violence" but whose attack on Mr Palmer was "cowardly".
"You have taken a human life and that will remain with you for the rest of your life ... you will be accountable to a much higher authority in due course."
After Mr Palmer's death, Kepu wrote a letter expressing "great sorrow and remorse" for his actions.
But Justice Heath said Kepu had also expressed "similar sentiments" after his earlier assaults.
"This did not cause him to refrain from assaulting Mr Palmer on the day in question," he said.
Outside the court, Mr Church said the family were grateful they didn't have to go through a trial but were unhappy with the sentence.
"No sentence will ever be enough, no punishment will ever bring back the loving husband, father, son and brother the loyal colleague and friend who was Jason Palmer," he said.
"Nothing will make this better or make this tragedy go away."