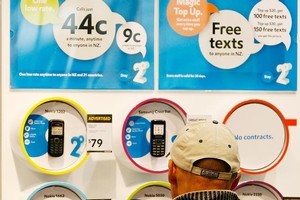 Mobile company 2degrees is making a grab for customers on phone contracts with an offer that allows unused minutes to be rolled over to the next month.
A survey commissioned by 2degrees says 70 per cent of the more than half a million mobile users who pay their own bills fail to use up their allocated minutes each month.
Larrie Moore, chief sales and marketing officer at 2degrees, said he had found only one other operator around the world which allowed customers to carry over minutes and that was AT&T in the United States.
"The way it has been is you've had to sign up to a long, fixed-term contract and minimum per month to get a paltry amount of minutes and texts and if you don't use all those minutes then you lose them," said Mr Moore.
The company is making a pitch for customers disgruntled with their plan with a $39 package, offering 120 minutes of calling and 600 texts on a month-by-month contract.
Voice minutes can be rolled over each month for up to a year, with data or additional text bundles bought separately.
Mr Moore said the package was pitched at people aged between 25 and 50 with the "epicentre" being people in their 30s, who did not want to worry about top-ups and paid their own phone bill - around 650,000 people with possibly a further 400,000 whose bills were paid by their employers.
Potential bill shock is guarded against with a preset account limit beyond the $39-a-month charge to be introduced shortly after launch.
It is the first contract offer from the company, which has been focused on the prepay market since it began just over a year ago.
Mr Moore said 2degrees would also be expanding the contract options to more business-focused plans.
IDC analyst Rosie Spragg said allowing the minutes to carry over was "incredibly smart marketing".
"We've been waiting to see what 2degrees is going to come out with in terms of some really innovative pricing, so it's really pleasing to see that coming through."
Ms Spragg said a lot of what had been done to date had been around undercutting on price so this offer was a step up.
The lack of long-term contract would appeal to people who had been burned by long-term contracts in the past, she said.
The plan could potentially be used to upsell 2degrees' prepay customer base, but the real opportunity lay in attracting lower-end customers contracted to Vodafone or Telecom.
She said Telecom's results for the year ending June 2010 showed 470,000 customers contracted to the soon-to-be-closed CDMA mobile network.
"It gives those sorts of customers another option when it comes time to switch."
IDC estimates 2degrees had 322,000 customers at the end of June - around 6.4 per cent of total market or 9.5 per cent of the prepay market.