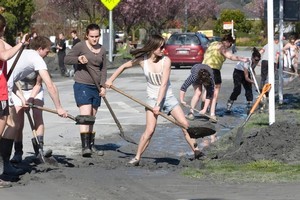 Student volunteers who helped in the earthquake clean-up have been rewarded with tickets to a sold-out Metallica gig.
And their leader, Sam Johnson, a candidate in next month's Christchurch's community board elections, has been given top political endorsement.
At Canterbury University today, Prime Minister John Key thanked the students for their hard-work and spirit of community.
He then turned to Mr Johnson who is standing for the Riccarton/Wigram community board and said while he did not normally endorse candidates, this time he would.
"Good luck, I hope you win," Mr Key said.
Mr Johnson, a third-year law and political science student, set up a Facebook page calling students to volunteer in the quake clean-up.
Last week more than 2000 students took to the streets with wheelbarrows and shovels.
About 100 of them went to Kaiapoi each day, one of the hardest-hit areas, to work alongside the New Zealand Army.
On their biggest day - last Thursday - 906 student volunteers got stuck in, shovelling silt and sand from streets and homes.
Mr Key said the group showed the power of social networking sites, how it could mobilise people and how the modern world was changing.
Since students had returned to university their volunteer work had tapered out but many were still helping.
Mr Johnson said the army of student volunteers had "changed so many people's lives and given them hope".
He said he felt privileged to hear Mr Key's support for him in the elections.
The 240 free tickets to the Metallica concerts was a bonus.
"It's brilliant, it's very cool. It's really nice to be able to thank the volunteers for their hard work," Mr Johnson said, though he admitted that deciding who would go would be tough.
Metallica has two sold-out concerts at CBS Canterbury arena next week but in wake of the devastating earthquake on September 4 the band and promoter Michael Coppel wanted to help.
They had donated about 300 suite tickets for the student volunteers and emergency services to attend the concert.
Christchurch Mayor Bob Parker said it was a generous offer and sent a great message to the hundreds of people who had worked thousands of hours getting the city back up and running.
The feedback about the student army had been heart-warming.
"Students and people from all walks of life lined up side by side and just doing what needed to be done."
"Metallica is a once in a lifetime experience and these students and another 60 from the emergency services will remember this for the rest of their lives."
Mr Key was in Christchurch today to visit residents at resthomes damaged by the quake, the Urban Search and Rescue base, and the student volunteers.
He travelled to Fox Glacier and Hokitika this afternoon to visit the plane crash site, where nine people were killed on the same day as the earthquake and to meet emergency services staff and tourism operators.
- NZPA