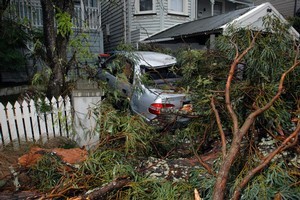 One of the largest storms on the planet is forecast to bring heavy rain and snow to much of the country from tomorrow.
While the storm, the size of Australia, was likely to remain at least 1000km south of New Zealand it was still expected to bring winds strong enough to bring down trees, power lines and even damage poorly built roofs in some areas, Phillip Duncan, head weather analyst for Weatherwatch.co.nz, said.
Blustery conditions would affect the entire North Island with severe gales likely about Wellington, Wairarapa and the tops of ranges, Mr Duncan said.
Strong winds would make driving much more difficult, especially for motorbikes, vans, trucks and other high-sided vehicles.
Heavy rain was expected for all western regions from Fiordland to Waikato starting tomorrow, with a number of fronts lasting until the weekend.
Eastern areas, including quake-hit Canterbury, should miss most of the rain.
Southland and Otago could expect heavy snow with a southerly change coming directly off the Antarctic shelf during Friday and Saturday.
Mr Duncan advised farmers in the middle of lambing to move vulnerable stock into barns or sheltered areas by the end of Thursday as wind chills dropping to between -10degC and -20degC could hit some exposed farms.
MetService spokesman Peter Kreft said the weather system would bring strong westerlies and Southern Ocean like conditions.
"For a few days, New Zealand will be well and truly in the roaring 40s," said Mr Kreft.
Heavy ocean swells were also expected off the western coasts of both islands, with the coast from Taranaki northwards expected to be struck by particularly rough seas for a few days from Friday, he said
"These wild seas will need to be treated with respect," Mr Kreft said.
Meanwhile, Environment Waikato (EW) has stepped up its flood monitoring for the Waikato and Waipa rivers in response to ongoing rain and the forecast of more over the next few days.
As a precautionary measure, EW has activated a flood operations centre at its Hamilton headquarters so that it is ready to swing into action if river levels rise higher than currently forecast, duty emergency management officer Greg Ryan said.
"The region is sodden, river and lake levels are high throughout the region, and will remain high as we approach this next spell of rain," Mr Ryan said.
EW would work closely with Civil Defence to advise people should river levels reach dangerous levels, he said.
- NZPA
- NZPA