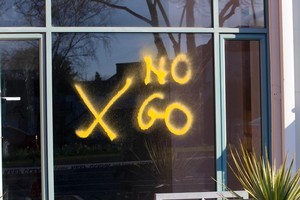 Residents of a block of earthquake-damaged Christchurch council flats have been evicted without warning, some not even allowed to collect their possessions, reports One News.
Council staff boarded up the flats in the suburb of New Brighton this afternoon after it deemed them unsafe.
One of the 23 evicted residents, Frances Hall, said the eviction left her "empty and blank".
"I just got here 15 or 20 minutes ago and found them doing all of this," Ms Hall told One News. "They didn't even tell us."
A local community board member said he was disgusted by the council's actions.
"They shouldn't have gone this quick. They should have been talked to. Why should they be kicked out? Why should they be given two hours to move to a welfare centre?" New Brighton community board member Steve Burke asked One News.
Christchurch councillor Chrissie Williams was surprised by the speed at which the evictions happened, but said the houses had been ruled unsafe.
"I didn't realise it would be quite so rapid as that. But I guess once a decision is made, people need to move out," Ms Williams told the broadcaster.
Meanwhile, Social Development Minister Paula Bennett today said Work and Income has so far processed over 2800 emergency payments, amounting to more than $359,000, to earthquake-affected Cantabrians.
The 2838 grants have been required mostly for food, accommodation and clothing.
"Cantabrians are a resilient bunch, but right now many just need some basic essentials, which we're happy to help with," she said.
Employers have also been taking advantage of the four-week $350-a-week subsidy, available to self-employed and employers with fewer than 20 staff, so they can continue to pay their employees.
The Government put aside $15 million for the Earthquake Support Subsidy, and Ms Bennett said more than 462 applications have been submitted to help pay the wages of 2573 staff.
"I'm really pleased employers are taking this initiative up, because it means they can get through this tough patch without losing their staff."
Ms Bennett said the Government's earthquake helpline have received more than 11,400 calls, requesting advice on housing repairs, financial support and offers of help.
Work and Income staff have also contacted 16,233 elderly people by phone, and home visited another 706 in the days following the quake.
- NZ Herald staff, NZPA