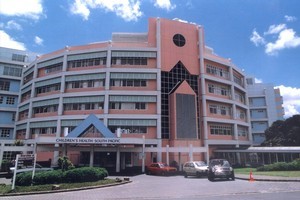 Patient conditions at Auckland's Starship Children's Hospital are unsafe due to a critical shortage of doctors, the union representing doctors says.
New Zealand Resident Doctors' Association (RDA) Auckland president Dr Abbey Jebb said there are as few as three doctors attending to 60 children at any one time, resulting in poor paediatric patient care.
The hospital is meant to have two consultants, three registrars and three house officers attending to its paediatric patients, but on Friday there was only one doctor of each discipline, she said.
Last week, a house officer (a junior doctor undergoing training) was allocated to work a night shift without senior support.
This was "extremely unsafe" and placed a great deal of pressure on the sole house officer, she said.
In addition, Starship will further decrease after-hours staff numbers over the summer months, even though patient numbers remained at capacity.
"Doctors are continually in bed crisis mode and decreasing already poor staffing levels will be a major setback for patients and a big mistake for management," she said.
This "risky and unmanageable strategy" being undertaken by the Auckland District Health Board (ADHB) was forcing doctors to only attend to the most acute patients and ignore others.
The ADHB said junior doctor vacancies were not much higher than earlier in the year.
However, a reduced rate of pay for locum cover, in line with national rates under the DHB/RDA employment agreement, had made it difficult to staff after-hours shifts or cross cover in the Starship Hospital, said DHB chief medical officer Margaret Wilsher.
Junior doctors providing locum cover for other services where vacancies were above the national average received a higher pay rate, of up to $150 per hour.
"ADHB is aware that some shifts, including night duty, in the Starship Hospital have been covered by senior doctors where junior doctor locums are not available and thanks those doctors," Dr Wilsher said.
"There have been no reports of patient harm or risk to patient safety."
- NZPA