Have you been affected by the earthquake?
Send us your photos and video.
Tracking today's events as they happen on day nine of the Christchurch earthquake disaster.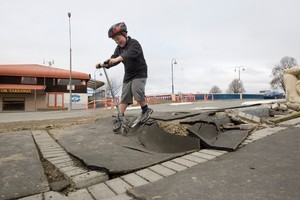 7.15pm Yet another aftershock in Canterbury. The magnitude 3.6 tremor hit 20 km west of Christchurch, 5km deep at 6.53pm.
Click here to see a map of the aftershocks.
7.07pm Education Minister Anne Tolley says the vast majority of Canterbury schools and ECE services are set to open tomorrow.
"Principals, teachers and trustees deserve a huge amount of credit for making sure their schools will be open for students," Mrs Tolley said.
She said 213 state, integrated and independent schools have been affected. All but nine are scheduled to open tomorrow, with most of the remaining schools likely to open later in the week.
Visit the Ministry of Education's website for further details.
6.20pm St John is still seeing high numbers of patients with heart problems following last week's massive quake and aftershocks.
Ambulances attended eight emergency calls last night for chest pain throughout the city, none of them fatal.
"Not all of these were heart attacks, but this is still a higher level of people with cardiac-related illness," regional operations manager Chris Haines said.
5.55pm An appeal will be launched tomorrow for funds to help repair and restore Christchurch's much-loved heritage buildings.
The fund will contain a $1 million grant from Fletcher Building, and government support is also expected, Christchurch Mayor Bob Parker said.
Details will be released tomorrow about how the public can contribute to the fund, which aimed to attract local, national and international donations.
5.50pm A further two aftershocks have hit Canterbury. One was at 4.51pm within 5km of Darfield (magnitude 3.2), the other at 5.27pm 20 km south-east of Darfield (magnitude 4.5). Click here to see a map of the aftershocks.

5.25pm Christchurch mayor Bob Parker says his mayoral fund, set up in the wake of the earthquake is on track to reach $11 million.
"It's doing really well," he said on Q&A this morning.
"We've got about $3.5 million cash in there, and promises that I think would bring it up to about another $11 million."
4.55pm Around 300 residents in Kaiapoi and surrounding towns have received cash grants in the immediate aftermath of Saturday's massive earthquake to help them get through.
The money has come from the Waimakariri Mayoral Relief Fund, supported by a $100,000 donation from Mainpower, North Canterbury's electricity company, and other donations.
Immediate cash grants of up to $500 per applicant have been available from the main welfare centre in Kaiapoi.
Mayor Ron Keating says it has proven critical in helping to cover groceries, medical and other emergency costs.
But he said the fund was only designed as a short-term measure - as of today, it is virtually depleted.
People still in financial straits should now be looking to the major appeal funding through Red Cross or talking with social agencies and WINZ about on-going financial support.
4.20pm A magnitude 3.1 tremor at a depth of 6km has struck 10 km south of Christchurch. Click here to see a map of the aftershocks.

4.19pm Another aftershock hit Canterbury at 4.03pm, 20 km west of Christchurch.
It measured 3.5 on the Richter scale and hit at a depth of 12km.
2.49pm Progressive Party leader Jim Anderton has announced he will stand down as MP for the Christchurch electorate of Wigram if he is elected as Christchurch Mayor.
Until now Mr Anderton had maintained he could do both jobs, however, he said this afternoon the devastating earthquake that struck Christchurch nine days ago had changed that equation dramatically.
2.11pm The Governor-General Sir Anand Satyanand and Lady Susan Satyanand, will visit Canterbury tomorrow to support and encourage those affected by the earthquake.
Sir Anand says he has been shocked by the devastation wrought by last Saturday morning's earthquake and is keen to personally offer his support, including hosting a BBQ at Selwyn District Council Headquarters for volunteers.
2.06pm A 3.6 magnitude quake struck Canterbury at 1.37pm, centred 20km east of Lyttelton, the GNS website reported. The earthquake was at a depth of 25km. To see where the other aftershocks have hit, click here.
1.31pm Addington Raceway's welfare centre says about 200 people stayed overnight, including many children. This morning the centre was almost empty, with many people out to check on their houses, hoping to move back soon. However, a staff member says this morning's aftershock has rattled many residents, and they expect an influx tonight.
12.56pm About 400 people gathered in Cathedral Square for an outdoor mass this morning. The cathedral itself is off-limits due to the risk of aftershocks but Dean Peter Beck says he felt having the service was important for the community.
12.50pm Christchurch Mayor Bob Parker says the city has received messages of support from as far away as England France.
"Ongoing moral support is probably one of the most positive things people can do for us down here," he says.
12.47pm The Red Cross says it has already received more than $3 million for its Canterbury appeal with ANZ National Bank and Fonterra both contributing $1 million.
11.58am There has been another aftershock of magnitude 4.2 centred near Glenroy, west of Christchurch. The quake hit at 11.39am and had a focal depth of 15km. To see where the other aftershocks have hit, click here.
11.35am Canterbury police say they have received positive feedback from residents after sending an additional 10 patrols out on the streets. Acting Canterbury District Commander, Detective Inspector Peter Read says the patrols are made up of police and soldiers and are aimed at giving residents peace of mind.
"These patrols are comprised of a mixture of Defence personnel, local Police and recently arrived Waikato officers who replaced their Wellington colleagues yesterday."
Mr Read says police in the central city reported a "fairly normal" Saturday night, with arrests for disorder and breaches of the liquor ban.
11.30am Civil Defence says it has been overwhelmed with offers of help from members of the public. Civil Defence Controller Peter Mitchell says there are not the resources to reply to everyone who has volunteered and anyone who has not received a response should assume their assistance was not needed.
10.51am Over 8000 Facebook users are supporting a page calling for U2 and Jay-Z to come to Christchurch to cheer up its residents in the wake of the earthquake.
10.24am Christchurch City Council's update on services in the earthquake-hit city includes information that a new welfare centre will open at Cowles Stadium in Aranui. The centre replaces the one that has been operating at Linwood School, as the school plans to open tomorrow.
9.34am John Key returned to Christchurch yesterday. Click here for the latest nzherald.co.nz video on the Prime Minister's thoughts on the city's rebuild.
9.15am Business Association Manager Paul Lonsale says locals appear to be relieved to be able to return to a routine as businesses reopen after the earthquake. He says talking to other members of the community made people feel normal and the tills are ringing again.
8.27am
More than 50 staff from around the country are now in the region helping local health workers. DHB spokesman Richard Hamilton says most services are coping despite Akaroa and Lincoln Hospitals being closed. He says the Emergency Department has been managing, but there's been increased demand in the cardiology and birthing units.
8.25am
The aftershocks in Canterbury have continued this morning with the largest a magnitude 4.6 quake reported at 6.03am. GNS Science reported the aftershock was centred 30km southwest of Darfield - the town nearest the epicentre of last Saturday's 7.1 earthquake. Click here to see a map of the aftershocks.
8.20am
Canterbury's police boss is reminding opportunist criminals they will not be tolerated.

While overall crime has been down since the quake, there have been a few cases of burglars ransacking homes which have been abandoned. Other crooks have been caught masquerading as builders and insurers hoping to get let into vulnerable people's homes.

Area commander Superintendent Dave Cliff says the justice system will be well aware they've tried to take advantage of a difficult situation.