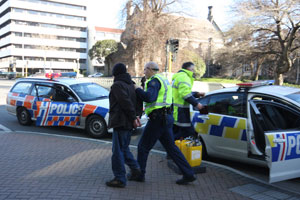 A man accused of looting a house that had been damaged and left abandoned in last weekend's earthquake says he is not worried about the punishment that will be handed down, but is concerned about what people are saying about him.
It comes as police and prosecutors warn they will bring the full weight of the law to bear on anyone brazen enough to take advantage of Christchurch's time of vulnerability.
Eight people have been accused in court of using the earthquake devastation as an opportunity to burgle empty or damaged shops and homes.
There are many more robberies that remain unsolved but police have vowed to find the culprits.
Victims have spoken of homes, first torn apart by the tremors, then "turned upside down" by looters. Or shops with the front windows smashed and stock taken even before dawn on the day of the quake.
Mechanic Shannon William Johnson, 19, appeared in the Christchurch District Court after he allegedly broke into a quake-damaged house on Avonside Drive. Police say he and 20-year-old Jack Duckmanton took various items.
Johnson was remanded on bail and Duckmanton in custody.
Johnson told the Herald on Sunday: "I just wasn't in the right headspace. The only thing that I'm worried about is the slander people are spreading."
Duckmanton and Johnson were joined in court by Kyle Paul McEntee, 28, Kimioa Ngatamariki, 28, Daniel Ezekial Peneha, 28, Timothy Brian Hurst, Deon Mathew Rich, 17, and Dylan John Palmer, 17.
- additional reporting Christchurch Court News