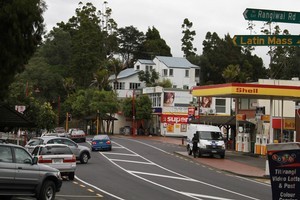 Let's play word association: I say "Titirangi" and you say... ? Most of you said "bush"; lots of you said "art and craft", some of you said "beaches", possibly "village". "Theatre" and "cafes" probably cropped up.
Titirangi is a place everyone in Auckland knows of, even if they haven't been there. Right at the beginning of the Waitakere Ranges Regional Park, and just a stone's throw from the Manukau Harbour, it's the wealthy, arty, bushy, slightly bohemian suburb out west.
Barbara Smith, of Barfoot & Thompson Titirangi, said as much in the introduction she wrote for a booklet on the suburb a couple of years ago: "The area is well-known for its local crafts, and is home to many craftspeople, potters, and artists as well as large numbers of professionals looking for the lifestyle appeal of coastal access to attractive bays, beaches, bush and [Manukau] harbour views."
Statistics New Zealand confirms it's a wealthy suburb - the median income of all residents aged 15 and over in 2006 was $37,100, compared with an Auckland-wide median of $26,800.
Unsurprisingly, the two most common occupational groups listed are "professional" and "manager".
More than half the residents (55 per cent) have a post-school education, and only 11 per cent have no formal qualifications.
Titirangi has more couples without children (40 per cent) than the Auckland average (35 per cent), but it also has more couples with children (50 per cent) than average (46 per cent). However, it has only around half the average Auckland number of one-parent families.
It has its own music festival (www.titirangifestival.com), monthly market (www.titirangi-village-market.co.nz) and amateur theatre company (www.titirangitheatre.co.nz).
Mike Carter, spokesman for the Titirangi Business Association, backs up the impression that Titirangi is a fairly laid-back sort of place. He says there are around 40 businesses in Titirangi, but not all of them belong to the association, which meets "when there's an issue - and only some of them meet".
He can't remember what the last issue was.
But he's fairly representative of the small retail and service businesses in Titirangi. Owner of the Titirangi Pharmacy, where he's been for around 40 years, he says it's "a pretty neat area to work" and customers are "incredibly loyal".
The one niggling problem, he says, is transport and parking. While Titirangi is served by quite a few bus routes, it can be a real issue getting connecting buses and trains to go to many places in Auckland.
As a result "people have two or three cars in a family" and when they all use them in Titirangi, parking can be an issue. But, he adds, that's a problem in most places in Auckland.
And, says Craig Smith of Harvey's Titirangi, out of rush hour the suburb is just 20 minutes from central Auckland. "Titirangi offers a completely unique lifestyle within easy reach of the CBD, which is always a marvel to international visitors."
Raul and Salvo Elias-Drago: Why we bought in Titirangi
Raul and Salvo Elias-Drago are truly citizens of the world. Raul was born in Puerto Rico, grew up in the United States and lived for 20 years in Switzerland and two years in China; Salvo was born in Sicily, Italy, and grew up between there and Australia, before also living in China and Switzerland.
Titirangi is the first place they have bought a house together and made their home.
Raul and Salvo started looking for an Auckland property on the internet in April, when they decided to accept a job Raul was offered and move to New Zealand, close to some of Salvo's family in Sydney.
"Right away, from afar, we immediately found the name Titirangi and were attracted to it," says Raul. It seemed to have a special feel to it, be not too far from the city, and close to beaches. Coming from Puerto Rico and Sicily "that was something that was important for us", says Raul.
Once they arrived in May and started looking on the ground, they made sure they looked in a few other suburbs as well - but Titirangi drew them back. "Immediately we knew that it was right, and so we really focused on this area," says Raul.
"When we arrived it reminded us a lot of the villages that we knew from Europe." They enjoyed that, once you leave the city, you travel a relatively short distance and then "arrive in a village", rather than just travelling from suburb to suburb.
They also liked the bush and birdlife - with Salvo having high expectations of interesting birdlife after his time growing up in Australia.
The house they bought through Allan Kay, of Barfoot & Thompson Titirangi, is in Wood Bay Rd, just five minutes from Titirangi village. Several things attracted them to the house, which sold in the low $500,000s.
Although it's close to other houses, it's private. "We don't see the neighbours from our windows and they don't see us," says Raul. "We see the bush, really." They also have harbour views.
Built in the 1970s, it has several skylights that let the sunshine in. That was important to two men from warm climates, as they had noticed that some Titirangi houses built in the bush could feel cold, damp and dark.
The house needs some updating, but they're fine with that, and Salvo is acting as fulltime project manager. Even though they moved into their home only two months ago, they already feeling part of a village community.
"People are very friendly," says Raul. "You go to a place a couple of times and already they recognise you. I think that's really nice."
* From the New Zealand Herald's quarterly 'Property Report' - a guide to house prices and great places to live.