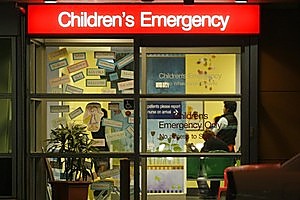 A drunk Auckland high school pupil was taken to hospital after falling over and knocking his head in a physical education class.
The boy from Glendowie College, in east Auckland, is believed to be in Year 10 and was taken to hospital shortly before 2pm on Thursday.
A parent told the Weekend Herald the boy had bought the alcohol from a classmate.
Northern ambulance communications confirmed that an ambulance was called to the school and a 15-year-old boy was transported to the Starship children's hospital for treatment.
The ambulance staff were told the student had fallen earlier in the day and that he had consumed alcohol.
While it is not clear if the student was badly injured in the fall, a Starship spokesman said the youth had been treated and discharged.
A man whose child attends the school said the Year 10 student had bought a bottle of tequila from another student at school.
It is understood the student then went to PE class, where he "fell down and hit his head", said the man, who did not want to be identified.
The school's principal would not talk to the Weekend Herald when approached for comment yesterday.
Board of Trustees chairman Stephen Grainger said he had "heard a little bit about" what had happened but also refused to comment.
Parent Association chairwoman Fiona Nicholls said her son was not at school on the day it happened so she had not heard about the incident. She was confident the school would deal with the drunk student, saying it was usual practice for one of the deputy principals to call the boy and his family in to discuss what had happened.
She said the incident would have been a "one off" as the staff were "really strict" and did not tolerate drugs or alcohol at school.
Meanwhile, fire services were also called to the college on the same day after reports of a fire in a building.
Northern fire communications spokesman Jarron Philips said they were called to the college about 3.45pm.
"There was a small fire in a classroom - nothing big - and we put it out using a dry extinguisher."
He said there was minor blistering on one of the classroom's walls and a little scorching.