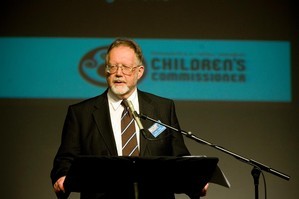 Many children in state care are still being shunted around to multiple placements, despite a new official policy of giving them a permanent "home for life".
A major probe by the Children's Commissioner's office has found that almost a quarter of the 5582 children in care at the end of last year had had more than six caregivers, with a maximum in extreme cases of 39.
The commissioner's 267-page report also slams Child, Youth and Family Services (CYFS) for dropping "significant numbers of young people ... out of care with no supports in place" when they turn 17.
It found "an overwhelming sense of low morale and battle fatigue" in some CYFS offices where social workers were unable to visit children in care regularly because "crisis work appeared to dominate".
"Even in those sites with a more positive attitude, caseload size was identified as a barrier to more effective engagement with care responsibilities," the report says.
"It seems likely that lack of engagement with children and young people in care may have created a situation where cases only receive attention when they reach crisis level."
The report is the latest of a series of official studies, dating back at least to a 2001 review by Judge Mick Brown, which have found the children's service struggling to cope with a huge increase in notified child-abuse cases caused by growing public awareness of the need to stop family violence.
Social work staffing has risen and CYFS head Ray Smith said yesterday that the service had cut the queue of cases waiting for a social worker from more than 3000 five years ago to under 100, partly by referring less urgent cases to private charities.
In a move pre-empting today's report, Social Development Minister Paula Bennett also unveiled a new package last month aimed at supporting foster parents to give children a permanent "home for life", including an upfront $2500 payment for costs.
Children's Commissioner John Angus yesterday said the package was "a good start" towards giving children in state care more stable lives.
"But considerably more effort is required to get many other aspects of their care right," he said.
His team's interviews with 47 children and young people in care found most were "surprisingly positive" despite often horrific backgrounds. Asked to rate their happiness on a scale of zero to 10, three-quarters rated themselves six or above and 60 per cent said they liked their current social worker.
But a quarter said they had been moved to new placements 10 or more times and many experienced a high turnover of social workers. Caregivers also reported overworked social workers who failed to visit every two months as required, did not respond to messages and often quit without warning. One caregiver had three social workers in four months.
Some said they were pressured to take children permanently just to get them off the state's books, shifting from the foster care allowance to the unsupported child benefit.
"Some caregivers felt forced to go on to the unsupported child benefit and worried about ... less tangible support in the future," the report says. "Some reported feeling blackmailed by being told that if they did not accept permanency the child would be moved."
CHILDREN IN CARE
* 1307 children were taken from their families into state care last year.
* 389 were given a new "home for life" in the two years to June.
* 52 per cent of the 5582 children in state care are Maori, compared with 24 per cent of all under-18-year-olds.
* 60 per cent of adults in the Corrections system come from state care or youth justice services.
ON THE WEB
www.occ.org.nz