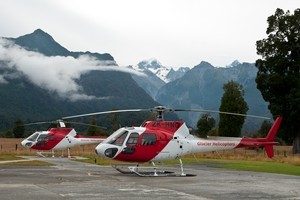 The small community of Fox Glacier has become a "ghost town" in the wake of Saturday's devastating crash, says a local accommodation provider.
Five locals and four tourists died in the fiery Skydive NZ plane crash, the cause of which might not be known for at least a year.
A bed and breakfast owner, who declined to be named, said residents were still in shock and the streets were deserted.
"It's like a ghost town at the moment. I think everybody is just quietly grieving. It's a bit of a shocker mate," she told NZPA.
However, Fox Glacier was a "tight-knit" community that would rally together and life would go on, she said.
"It's an accident that's happened with a very large number of people, considering the population here... it's a very big disaster."
The adventure tourism industry would probably take a hit initially as the crash might make some adventure seekers "think twice" about visiting the town.
The town's core adventure activities were restricted to skydiving, glacier guiding and heli-hiking, she said.
A lot of residents had friends and family affected by Christchurch's earthquake, which made things even more difficult.
A Franz Josef hotel manager, Marie Goodall, said it had already had four cancellations since Saturday. However, she put that down to the impact of the earthquake as it had made international headlines.
Both Franz Josef and Fox Glacier relied on tourism and businesses would be forced to close if tourist numbers fell.
Tourism West Coast general manager Matt Ewen said the crash was an "absolute tragedy" and the small community had been hit hard.
He knew of a hotel manager who had already organised counselling for his staff, who were "gutted".
Skydiving was one of Fox Glacier's key tourist activities in a town reliant on tourism, he said.
SkyDive NZ had been a very good business which had held an "outstanding" safety record.
The crash was New Zealand's worst aviation disaster in 17 years.
The victims were Skydive director Rodney Miller, 55, from Greymouth, pilot Chaminda Senadhira, 33, from Queenstown, and dive masters Adam Bennett, 47, from Australia but living in Motueka, Michael Suter, 32, from New Plymouth, Christopher McDonald, 62, from Mapua, and Rodney Miller, 55, from Greymouth.
The four tourists who died were Patrick Byrne, 26, from County Wexford, Ireland, Glen Bourke, 18, from Coburg in Victoria, Australia, Annita Kirsten, 23, from Germany, and Brad Coker, 24, from Farnborough, England.
- NZPA