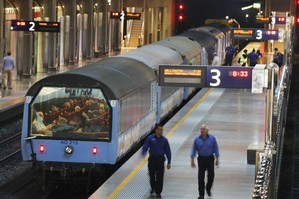 KiwiRail has more than doubled a "shortlist" of prospective suppliers of electric trains for Auckland, raising concern about the bidding process and potential project delays.
The Government-owned rail operator is calling for bids from no fewer than 10 parties for 38 three-car trains within a budget of $500 million, compared with a short-list of four announced in July, saying it wants to ensure a superior "whole of life" supply and maintenance deal.
Three Chinese contenders have been added to the list, as well as a Japanese consortium and two Australian firms.
One industry source described the expansion of the list as a "mind-boggling" development at this stage of the contracting process, which is aimed at having the trains delivered between mid-2013 and the following year.
The source feared it could undermine the credibility of the process among those who thought they had the inside running, possibly to the point of driving them away from New Zealand.
Those on the original list included Japanese firm Hitachi, a Spanish-Japanese consortium of Construcciones Auxiliar de Ferrocarrilles and Mitsubishi, French-owned Bombardier and South Korea's Hyundai Rotem, which has begun supplying Wellington's third generation of electric trains.
Auckland Regional Council chairman Mike Lee said the move was a surprise to him, and he hoped it would not lead to any more "slippage" in the project timetable, which was delayed by almost a year after the Government decided to buy the trains rather than expect Aucklander motorists to pay for them through a regional fuel tax.
KiwiRail chief executive Jim Quinn acknowledged that widening the pool would increase the tender evaluation task, although he still expected the first electric multiple unit trains to arrive in Auckland in June 2013. But asked whether they would all be in service by the target of 2014 on an electrified track network costing the Government a further $500 million, he said that would depend on final negotiations with the successful bidder.
Mr Quinn said KiwiRail had decided to expand the shortlist after reflecting "on the critical importance of securing the best possible whole-of-life outcome, taking account of quality and cost."
He said market conditions were changing continually around the world and the company was keen to secure a deal offering high-quality maintenance for at least 10 years as well as a superior standard of rolling stock.
He denied there had been any political interference either at a Government or regional level to secure a place at the bidding table for Chinese manufacturers, who include a partner in a consortium supplying KiwiRail with 20 new diesel freight locomotives in a $75 million deal.
Mr Lee said he had had no involvement in the process, although he had spoken to a Chinese industry representative about prospective contributions to two other potential Auckland rail projects - a central city tunnel and a link to the airport.
Transport Minister Steven Joyce yesterday welcomed progress on the train procurement front, but a spokeswoman said the tendering process was entirely KiwiRail's.
Mr Joyce said KiwiRail had told him it was "very happy with how things are progressing".
He was also heartened that several bidders had visited KiwiRail's engineering workshops to investigate the potential to have some of the train supply work done locally, and he hoped others would do likewise in the months ahead.