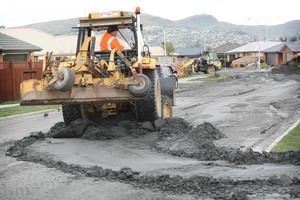 In Italy at the weekend, the world's smartest economists gathered to discuss weighty issues, such as whether governments should pump more stimulus into their ailing economies.
At the same time in New Zealand, a massive earthquake was making that decision for us.
The earthquake in Christchurch is a disaster. It is my hometown, and the scenes of devastation are heartbreaking. So much of the beauty of the city is in its history, its buildings, its bridges and shop-fronts.
The short-term economic impact is very worrying. Insurance will cover some losses but with malls closed on a Father's Day weekend, many retailers will be counting costs that are difficult to recoup and that they can't afford to write off.
The Port of Lyttelton has already reported millions of dollars worth of damage, and as the week unfolds, many other companies will count the cost.
But one upside - and mercifully the lack of fatalities allows us to consider this - is that nature has unleashed the biggest job creation scheme this country has seen.
Just last week, an NZIER report warned 20,000 construction sector jobs are at risk as the building sector stalls.
The scale of the damage in Christchurch is so huge that the local workforce won't be able to cope.
Tradespeople and construction workers are going to be needed from all over the country. Big companies such as Fletcher Building will be required to co-ordinate infrastructure work. But at the other end of the scale, there are many thousands of houses that need repairs - be they big or small.
And while the historic parts of the city have always been well loved, parts of the CBD were in dire need of renewal. Christchurch is a city unconstrained, with plenty of space to the west, and it has spread rapidly in the past 20 years.
That's put pressure on downtown businesses. Retailers have struggled to compete with big suburban malls. If the reconstruction is handled properly, we might see a stronger, more economically vibrant CBD emerge.
For those in the thick of the mess, it will be too early for such long-term hopes.
But between the man-made disaster that was South Canterbury Finance and this earthquake, we are going to see billions of Government dollars injected into the southern economy.
With any luck, that may kick-start strong economic growth for the whole nation.