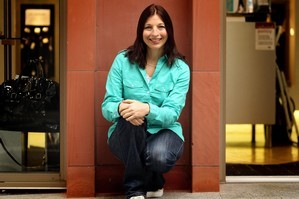 Kiwi consumers are forced to pay some of the highest prices in the world for clothes and those who take the biggest cut refuse to justify the difference.
New Zealand shoppers pay up to five times more than those in other countries for a pair of Lee jeans and up to three times more for men's Diesel jeans.
The Herald on Sunday has traced the costs that make up the price of a pair of jeans.
By the time the product gets to New Zealand, the price gap between here and the United States has increased up to 500 per cent.
It is caused by a combination of factors such as a small local market, the long distance from where the goods are made and our high exchange rate.
On Lee's Australian website, which services New Zealand, women have a choice of 18 designs ranging in price from $190 to $227.
A scan of women's jeans on Lee's US website shows 72 varieties ranging from $33.70 to $50 - a fifth of the New Zealand and Australian price.
In the United Kingdom, prices for Lee jeans are priced from $80.
About nine out of 10 pairs of jeans sold in New Zealand are manufactured at state-of-the-art factories on the east coast of China. Those producers will usually take a 25 per cent cut of the eventual cost to the consumer.
From there, buying agents will take a fee of between 5 and 7 per cent as they negotiate large-scale purchases on behalf of Kiwi retailers.
Transporting the jeans and distributing them to stores in New Zealand typically soaks up about 15 per cent of the retail price. Individual importers were reluctant to give details of their mark-ups, citing commercial sensitivity.
But Daniel Silva, secretary of the Importers Institute, said importers would typically take between 10 and 20 per cent.
The Government slaps a 10 per cent tariff on all imported clothes and footwear from China, plus 12.5 per cent GST (rising to 15 per cent on October 1). Retailers will then try to mark up prices from anywhere between 30 and 60 per cent.
Silva said the Government should carry some of the blame for high prices due to the tariff.
"The tariff was in place to protect the local industry but we don't have a local industry any more. It's a relic from the past and it's incomprehensible that the tariff is still in place.
"People think that the importers are marking it up massively but that's not the case. They are all highly competitive. If one marks it up too much then they won't be able to sell anything."
The price of a basic T-shirt hasn't increased in 10 years. "We used to get stuff from China that was cheap and nasty. Now it's cheap and top quality."
Trade Minister Tim Groser said the 10 per cent tariff would remain in place until 2014 at the earliest as a bargaining chip in free trade negotiations with China. "If you just take a purely consumer view, you would have abolished all tariffs 30 years ago but that would place enormous pressure on high-employment sectors."
Labour leader Phil Goff said the Government's decision to raise GST showed it was out of touch with consumers.
"The Government's thinking must have related back to an earlier age when the internal market was quite different from the global market we now live in. Retailers will also suffer."
Mark up madness
Claire McCall has paid $270 for a pair of jeans by Italian designer Gas. She owns another pair, from Max Fashions, that cost her $140.
The 43-year-old writer has paid nearly $500 for three pairs of jeans - a lot of money for most New Zealanders - and she is no exception.
So the Aucklander was surprised to hear that she could have got them far cheaper overseas.
"Retailers always put a huge margin on," she said. "It's 100 per cent more expensive but I am kind of used to it."
McCall said despite the cost she would continue to buy jeans because "I wear them all the time".
She was on her way to a jeans outlet store to buy more pairs.
- Anna Rushworth