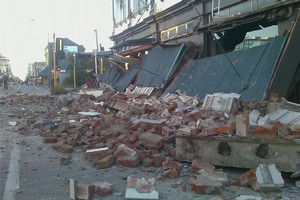 Police and Civil Defence are requesting that those not already in the affected areas of Christchurch stay away from the hardest hit regions.
Although all of Christchurch's hospitals are operational, authorities are asking that people only go to them if they are seriously injured.
For more minor injuries, residents are requested to visit one their local medical centre in the first instance.
Residents are also being asked to conserve water.
Homeowners with insured properties that have been damaged by the earthquake can lodge a claim with the Earthquake Commission. Call EQC's free phone number 0800 DAMAGE (326 243) or click here for the claim form.
People have up to 3 months to make a claim.
EQC chief executive Ian Simpson says he expects thousands of claims over the next few days and advises people who strike a busy signal to keep trying the lines.
If you have any issues or don't know what to do, the Earthquake Government Helpline has been activated. It is available all day today then from 7am to 10pm daily.
People requiring information on income support, housing options, health issues, community assistance, Civil Defence or any other government service can call 0800 779 997.

For non-English language speakers who need support, the Language Line service which provides interpreters in forty languages is available via the Earthquake Government Helpline (24 hours): 0800 779 997, and Healthline (24 hours): 0800 611 116.
Affected farmers should contact Neil Stott, Federated Farmers north Canterbury provincial president on (03) 318 8577 if they need assistance.
The website Recover Canterbury has been set up as a central information page for business.
A call centre is also now available for businesses to call for advice:
- 03 366 5096.
Broken windows: If you have property to be secured, call AMN (Asset Management Network) glaziers directly on 0800 221 331.
The British High Commission has asked British visitors affected by the earthquake who require consular assistance to first refer to their websites here and here.
British visitors who require more immediate consular assistance should call the British High Commission emergency number which is 04 924 2898.
Donations:
People wishing to make donations towards earthquake relief in Canterbury can do so online through the Salvation Army (or call 0800 530 000) and the NZ Red Cross (or call 0900 33 200 to make an automatic $20 donation.)
For the latest updates on the situation in Canterbury:
* The Civil Defence's website has information on hospitals, water supplies, roads and building safety.
* More information on how to conserve water, is here.
* This Google Map has links showing the locations of a number of medical centres around Christchurch.
* Call 111 for fire, ambulance or police services only in a real emergency. For any less serious situations, call your local police station. For a list of police station contacts in the Canterbury region, click here.
* The New Zealand Food Safety Authority has issued advice to residents without power and water to help them minimise food spoilage.
Their tips include:
FOOD
* Eat perishable foods, for example bread and meat first.
* Eat canned foods last.
* Minimise food spoilage by opening the fridge or freezer only when you need to take food out.
* Do not eat vegetables or fruits that have been lying in flood water.
* Cover all food with plastic wrap or store in waterproof containers.
* Throw out rotting or tainted food before it spoils other food.
WATER
* The following household facilities can be used to cook, wash dishes, and wash your hands:
- hot water cylinder
- toilet cistern - as long as no chemical toilet cleaner is present
- bottled water
- spa/swimming pool water - can use to wash yourself and your family.
Boil or purify water before using it in food preparation, and to avoid cross-contamination of food. Once boiled, cover and store in a clean container and place in the fridge (if it's working) or in some other cool place. Re-boil the water if it is not used within 24 hours.
If you do not have power to boil water then purifying tablets or bleach can be added to ensure its safety. Add five drops of household bleach per litre of water and leave for 30 minutes.
ANIMALS
* Emergency animal welfare incidents can be reported on 03 366 3886.
* Anyone who had lost an animal for more than 24 hours should call SPCA Track-A-Pet on 0900 56 787.
- NZ HERALD STAFF, NZPA