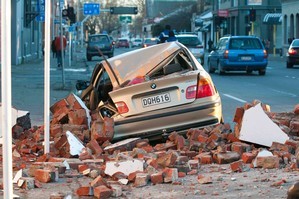 Many Christchurch residents are counting themselves lucky to be alive after this morning's massive 7.1-magnitude earthquake struck the city.

Marsha Witehira, 30, was sleeping when the wall next to her bed collapsed in and falling bricks narrowly missed landing on her head.
Her friend, Tama Wharepapa, was sleeping in the lounge when items started falling on him from a wall unit.
He rushed into Ms Witehira's bedroom and pulled her by the feet out of the way of the collapsing wall.
"It just missed my head," Ms Witehira said.
"He literally pulled me by my feet in my sleep, just at the time that the bricks fell on my bed and it just missed me. It was pretty intense," she said.
"I'm very lucky to be alive. If Tama wasn't here to wake me from my sleep and pull me out, I really wouldn't like to think what the result would be."
Other walls in the home Ms Witehira rents had also collapsed and most of her property had been destroyed.
Principal thrown out of bed
Darfield Primary School principal Markham McMullen said this morning's earthquake was like facing a train.
"It just kept coming, it went and on and on," he said.
The force of the initial quake threw him and his wife, Annita, out of bed, he said.
"It was absolutely terrifying. We grabbed our daughter, Sophie, from her room and crouched under a doorway. The TV was flying around the room and the reality kicked in. It was very scary.
"Our china cabinet has crashed, pictures are off the wall, anything high up has come down and the cat has gone. He is probably still heading south.
"I've been in a few big quakes down in Southland, but nothing like this. It really flexed and the aftershocks were the other thing. They just kept hitting."
Mr McMullen drove to his school and said a quick check had revealed no major damage.
"Fortunately, no one seems to have been hurt around here. Material things don't matter in situations like this."
It was just a massive noise
Knee Doherty said she was asleep in her central Christchurch home when the building next door collapsed.
"We didn't even notice the movement as much as the noise," she said.
"The back of the house is pretty much gone. All the house next door is gone. It was just a massive noise."
'Extremely violent shaking'
New Zealand Herald reporter Jarrod Booker, who lives in the central Christchurch suburb of Linwood, said he was woken by "extremely violent shaking."
"Items were falling and crashing around the house. It was extremely violent shaking."
He said the chimney from his next door neighbour's house had fallen and smashed through a car's windscreen.
"There have been a number of aftershocks of a much lesser degree since then."
Mr Booker's partner, Kineta Knight, said it was a scary sight to see.
"The entire chimney landed on my car. It completely smashed the windscreen. I heard something falling and I thought it was a pole. The whole thing was in really slow motion."
She said it was quite alarming at how close to danger they were.
"I wouldn't have liked to have been in my car when it happened."
"The scariest thing was the quake just felt like it would never end. It wasn't a sharp, sudden jolt. It was like being on a rollercoaster."
"Things were smashing everywhere, we could hear glass breaking."
Ms Knight said there was a lot of rubble and that alarms were going off.
"People have been driving around the streets looking at the damage."
'The building has been flattened'
Newstalk ZB reporter Craig Kerr spoke to Auckland host Pat Brittenden from the Christchurch office, which he said had sustained damage.
"Basically, the place is destroyed. Desks that were standing up are flattened against the ground. The filing cabinets are tipped over. The lifts in the building are obviously out of action."
"The building just along the road from us here has been flattened - it's on the ground," he said.
Chimneys collapse
The two-storey 1920s home of Neil and Cathy McPherson, in the suburb of Merivale, had its two brick chimneys demolished and ceilings cracked.
"You couldn't walk, it was so frightening," Mrs McPherson told NZPA.
"We've lost treasures but that is neither here nor there - ornaments and dinner sets."
She said her husband tried to rush to the nearest beam to their bed, but tripped in the dark over a heater that had fallen over and then found his path blocked by about 200 books that had fallen off their shelves.
A man who lives in the southern Christchurch coastal suburb of Southshore described the quake as "incredibly long and tortuous".
He was on the second floor of his house and could feel the house "twisting and fracturing around our ears", and it had been left "on a bit of an angle".
There were cracks and a chasm across his garden.
Photographer David Alexander, of suburban Opawa, told NZPA the aftershocks "just keep coming". His house still had power but street lights were out.
Mr Alexander said his wife was from Japan and had experienced worse shocks but she said this was a pretty good one.
Their 103-year-old villa had withstood the onslaught well but there was broken glass and china everywhere, and "a very frightened cat under the bed".
Christchurch man Chris Hutching said the water mains had burst in his St Albans neighbourhood and that "chimneys are down all around us".
Another city resident said the top of St Joseph's church, in Papanui, appeared to have fallen off.
Cashmere Hills resident Tony Stuart woke today to a crashing sound rumbling through his house as a massive earthquake hit Christchurch.
"It was the noise of the glass breaking that will remain with me. All I could hear was glass crashing and stuff dropping all over the place," he told NZPA.
"It was the sound reverberating through the house.
"We woke up to a tremendous rumbling and shaking and the sound of glass breaking."
Mr Stuart and his wife, Von, were both asleep when the earthquake hit about 4.35am and immediately sheltered under door frames. A neighbour's house lost a wall in the shake, leaving the kitchen exposed to the elements.
His neighbour was out of town and did not yet know about the damage. He had checked other neighbours for damage or injury.
"It was the noise and the rumble. It was so intense. It was massive and then you think, `hang on this is Christchurch and it is not meant to be happening'. Then you think of all the greenies who say `I told you so, I told you so, you weren't ready'."
Quick reports from nzherald.co.nz readers
Kelsey McIntyre from near Inglewood in Taranaki felt the quake hit the morning. It "was strong enough to wake me up, and I could hear the pictures on the wall in the hallway lightly bouncing off the walls and the also the door swinging back and forth," said McIntyre.
Timaru resident Christine Prouting was woken by her whole house shaking. "We were frightened and took our two small children under the table," she said. "By the time we got there it stopped, but we had a lot of aftershocks."
Sean Timney felt the quake at 4.38am in Dunedin's Careys Bay. "Wife slept through the whole thing, typical," he said.
Sonya Davis from Redcliffs reports it "felt like the tipping of something huge" and that her family "felt a real risk of tsunami".
Gayle Temple from Ashburton says she woke to her house shaking and rolling. "I have never been so scared in my life," she said "We didn't know what to do having never experiencing anything like this in our lives the after shocks are still happening and I am still shaking".
Anne Kenyon of Christchurch said "we are extremely lucky to have escape damage or injury" and describe the quake as the scariest thing she had ever experienced.
"I didn't know quite what was happening as I awoke to violet shaking and noise that I can best described as like a freight train going through our bedroom."

- NZHERALD STAFF/NZPA