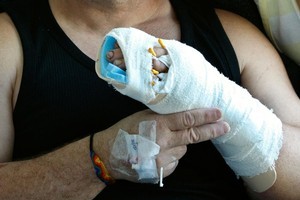 The saw was spinning fast. Stephen Ellis was demonstrating a job he had done "a million times". Then, in a flash, half his left hand was sawn off and flung onto the ground.
He was cutting a notch in the tip of a 1.2m length of kauri timber on a bench-mounted docking saw 10 days ago when the accident happened, slicing through his hand.
The "fillet" of kauri apparently caught on the 5mm-thick circular blade, which is about 40cm in diameter, causing it to lurch towards the hand with which Mr Ellis was holding the timber.
"I swore, more or less. I went 'F***!'," the 36-year-old father of three recalled yesterday in Middlemore Hospital, where he is undergoing rehabilitation after a remarkable operation to stitch and wire his left hand back together. He is right-handed.
"I saw them [four fingers, attached to each other] on the ground. I was just freaking out.
"I thought I was going to be stuffed, because I have always been a working person.
"I thought I was going to be an invalid. I didn't think they would be able to put my fingers on. I thought I would just be useless."
A supervisor in the sawmill at the Ancient Kauri Kingdom tourist attraction in Kaitaia, Mr Ellis said he always emphasised safety with machinery.
He was showing a technique to a colleague when the accident happened.
His workmates called an ambulance, elevated his arm and put the severed part of his hand in a plastic bag with ice from the venue's cafe.
He was taken to Kaitaia Hospital, where his partner, Robyn Tepania, a nurse, was on duty.
He was flown to Middlemore by helicopter and stabilised before a 16-hour operation that involved more than 25 staff, including six surgeons, who worked in shifts.
Dr Alessandra Canal, the plastic and reconstructive surgeon who led the operation, said yesterday Mr Ellis was doing very well, but it was hard to predict the final outcome. Rehabilitation was very important.
"He should be able to make a full fist. He should get some sensation which will give him a functional hand. He should have some movement in his fingers."
In the operation, bones - which had been badly damaged - were wired together and severed blood vessels, nerves and tendons were stitched together.
Dr Canal said that unfortunately the hand was not cut in a straight line.
"It had caused some cracks, or fractures, around the bone and some pieces of the bone were missing. We tidied up the ends of the bones as best we could."
However the joint of the ring finger would have to be fused.
Mr Ellis said he was very excited that during physiotherapy, which started several days ago, he was able to move his reattached fingers slightly and he was "very determined" to recover.
His 14-year-old son Levi was gutted by the accident. They used to throw a rugby ball around together and Mr Ellis reassured him: "I said, 'We'll be sweet. We'll be able to play passes'."