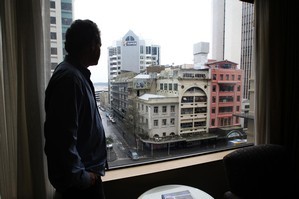 A "disgraceful" eyesore of run-down buildings opposite one of the country's top international hotels has angered an Auckland official, heritage campaigner, hotelier and neighbouring apartment owners.
Auckland Regional Council chairman Mike Lee, historic advocate Allan Matson, Stamford Plaza general manager Peter Gee and Quay West apartment owners are up in arms about the state of rundown graffiti-bombed Albert St buildings with broken windows, graffiti and loose plaster almost directly opposite the five-star hotel.
Stuart Galloway, building owner, says he wants to demolish and clear up the mess but has been denied demolition consent since 2005 by a council which offers him nothing for preserving or restoring the buildings.
"I'm between a rock and a hard place," he said. "These buildings are in a bad state. There's no point in tidying them up, they've been unoccupied for 15 years and are unfixable.
"The council should put money towards them if they want to keep them."
Mr Galloway said attempts to keep vandals and street kids out had failed, partly because his bid to run a carpark in his Wolfe St building behind the Albert St blocks failed when the council denied him consent.
Environment Court action over the buildings is ongoing, he said.
Auckland City Council officials are moving towards having the buildings listed as historic after the court demanded parties meet to iron out a solution.
Mr Gee fears for the city's image during the Rugby World Cup.
He says it should be a matter of civic pride that the buildings are restored and he cannot believe Aucklanders' apathy.
Mr Matson of the Auckland Society for Amenity Protection wants the buildings kept.
He says they are historically important and a significant part of our cityscape.
"The heritage value should be properly recognised."
Quay West residents have been complaining for years and are dumbfounded that the council is not forcing the owner to fix them up.
Mr Lee said the buildings were disgraceful.
"I am glad the spotlight has now been directed on to this particular CBD eyesore. It is embarrassing that they are directly opposite one of the country's premier international hotels.
"The ARC is not aware of any specific proposals for the site, nor does it have any regulatory role as far as we can see. The responsibility is all Auckland City Council's, until at least until we join the Super City," he said.
"I share the concerns of Peter Gee. The buildings are in a very poor shape and look disgraceful. The ARC does not have a formal regulatory role or power over dilapidated buildings in the CBD but I would like to see this cleaned up now, and I'd be interested in what could be done to reflect something of the Yates Building's former appeal and character.
"Councils need to have the power to force commercial building owners to tidy up and paint their buildings. There are some charming old buildings in Queen St which are in need of tender love and care.
"Another horrible eyesore is the car park building next to the Victoria Park Market, highly visible but with extensive green slime staining the concrete structure.
"The state of these buildings highlights the continuing challenge that we and the new Auckland Council will face to develop Auckland as a city that is engaging and attractive to live and work in," said Mr Lee.
"This means the ability to require landlords to smarten up their act or the council should do it for them and send them the bill."
Historic gems?
* Yates Building: 13 Albert St, once home to the seed business, built 1880-1913
* Link House: 15 Albert St, once home of salt merchants Henry Berry & Coy
* Challenge House: built 1911, 5-7 Wolfe St, behind Albert St blocksLink House and the Yates House, in 1928.