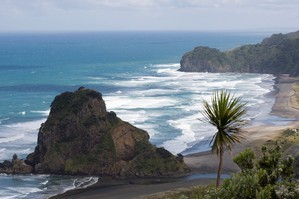 A man whose desire to set up a cafe in Piha led to court action is among the "new blood" seeking to represent residents of Auckland's west coast villages and towns east of the Waitakere Ranges.
The Environment Court case last year confirmed the cafe's resource consents, albeit with onerous conditions, after stern opposition from the Protect Piha Heritage Society.
But the exercise got Andrew Higgs, a main partner in the venture, interested in local government. "It has not been working and, believe me, I know. I think you can sit on the sidelines and complain or get involved."
Mr Higgs, 38, who is general manager of Parex Industries in Henderson, is standing on the Citizens & Ratepayers ticket for the Waitakere Ranges Local Board election.
Returning from executive jobs in Britain five years ago to raise a family at Piha, the keen surfer was struck by the negativity towards business.
"Attitudes need to change because in the business community everybody supports each other because they know how hard it is.
"Local boards should get behind business, because the median age of Waitakere residents is 33 and over half are in small businesses and struggling."
The new board area includes the 17,000ha Waitakere Ranges Regional Park and has 49,000 residents.
The 17 candidates seeking six seats include city councillors Janet Clews and Paul Mitchell, of the Independent Ratepayers & Residents ticket, and Judy Lawley (Totally Independent).
Support is also expected for New Lynn Community Board chairman Gayle Marshall and Future West members and former city councillors Denise Yates and Greg Presland.
ON THE WEB
For a full list of candidates go to aucklandcouncil.govt.nz