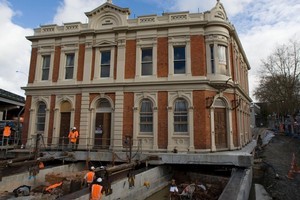 The historic Birdcage Tavern started its slow move towards new temporary lodgings yesterday.
What was expected to be a day-long operation to slide the double-storey brick building along four concrete "runway" beams, 44m back from the site it has occupied for 125 years, was slowed by having to continually adjust hydraulic pressures to guard against potentially destructive ground settlement.
It took a long morning for contractors involved in the $406 million Victoria Park motorway tunnel project to gently nudge the old hotel along its first 3m with two rams, before quickening the pace in the afternoon.
By about 6pm, when darkness called an overnight halt to the nerve-racking operation, the 740-tonne building was 19m towards its temporary destination - where it will be kept for four to six months until being moved back to its old site, above the completed "cut and cover" tunnel.
Despite scheduling pressure to begin constructing the tunnel's southern portal, the consultant design engineer for the move Adam Thornton said "speed is not the issue here".
"The important thing is that it gets to the other end, unstressed," he said.
Mr Thornton, whose firm Dunning Thornton has moved several other large buildings, including Wellington's Museum Hotel and Waihi's historic Cornish Pumphouse, has spent about five months in charge of strengthening work to prepare the hotel for the shift and make it more earthquake-proof.
Each of its brick walls has been enclosed by two concrete "sandwich" beams on which it is being silently pushed to its destination along runway beams with stainless steel surfaces.
Slippery layers of teflon have been installed under 14 hydraulic jacks at points beneath the building, which has been sheared off its basement, enabling the entire structure to slide along the beams.
Each of the jacks can expand by 25mm to keep the building level. These are constantly monitored and adjusted to redistribute the load and ensure the brickwork is not damaged.
Auckland City Mayor John Banks, a joint owner of the hotel in the 1980s, was among onlookers marvelling at the feat.
"I never knew you could move a brick building," he said.
Although the hotel's return journey is costing the Transport Agency about $2.5 million, that is considerably less than an initial budget of $8 million to $10 million for a one-way shift.