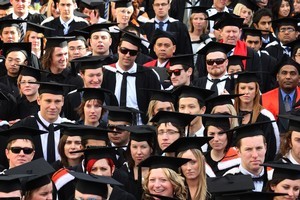 Former Victoria University interior design student Brittany Bell will have to wait to see if plagiarism findings against her will be overturned, after the judge hearing her case today reserved his decision.
Ms Bell was prevented from graduating from Victoria University in 2008 after being found guilty of presenting the work of other architects as her own.
A university disciplinary appeal committee upheld the ruling on appeal.
But today Ms Bell's lawyer, Les Taylor, told the High Court in Wellington his client had done nothing wrong, with Ms Bell clearly indicating the website from which she had allegedly stolen images.
"It would be a curious form of plagiarism that directed the examiner to the very work being copied. If there was any intention to deceive ... Ms Bell went about it in an extremely unusual way."
Mr Taylor said he also believed the court itself should be able to determine whether there was any plagiarism, without referring the matter back to the university committee.
Earlier today Justice Denis Clifford had heard from university lawyer Bruce Corkill QC, who said students of Ms Bell's academic experience would have been in no doubt as to the requirements for sourcing images.
Course guidelines were "crystal clear" on referencing requirements, and students were told those requirements five or six times throughout the year by the lecturer, Mr Corkill said.
Justice Clifford also heard from the university that website citations included in Ms Bell's final project were too vague and indirect.
Mr Taylor disagreed, saying Ms Bell did indeed reference the Suckerpunchdaily website as best she could, along with the date she accessed it.
The fact web pages changed and expired could not be seen as proof of any intention to deceive, Mr Taylor said.
"One has to say to oneself, `What more could she have done to identify the images found on the website?', and the answer is: nothing," he said.
Mr Taylor said his client would be very concerned if the matter went back to the university.
"There is a clear lack of understanding by the [university review] panel of Ms Bell's methods of reference."
Justice Clifford said he would consider recommending that any university committee re-hearing the matter would not contain the same members, were he to suggest that outcome.
Ms Bell, who left university to work at Weta Workshop, was not present at today's hearing.
- NZPA