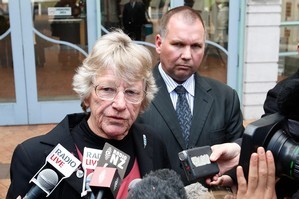 The man who murdered undercover police officer Sergeant Don Wilkinson has been jailed for at least fifteen years.
On June 12 a jury found John Skinner guilty of murdering Sergeant Wilkinson during a covert police operation in September 2008.
Skinner was under police surveillance as a suspected P manufacturer and shot Sergeant Wilkinson with a powerful air rifle after catching him trying to install a tracking device on his Ford Explorer.
Skinner was also found guilty of attempting to murder another officer and of assault with a firearm.
Co-accused Iain Clegg was found not guilty of murder and attempted murder but guilty of manslaughter.
In the High Court at Auckland today, Justice Geoffrey Venning sentenced Skinner to life imprisonment with a minimum non-parole period of fifteen years for Sgt Wilkinson's murder.
Additionally he was jailed for 10 years the attempted murder of the other officer and one year for assault with a firearm, with those terms to be served concurrently.
Clegg was jailed for eight years, with a minimum non-parole period of four years.
Justice Venning said Sgt Wilkinson had served the community well and faithfully for a number of years.
The judge said Skinner and Clegg had no right to act the way they did because Sgt Wilkinson and his colleague didn't pose a threat to them, their families or their property.
"Instead, you acted deliberately to impose your own justice on these men and hunted them down to do so."
He said he rejected any suggestion there was any action from Mr Wilkinson which justified Skinner's claims of self-defence.
"Your actions were deliberate sustained actions carried out over a period of time," he said.
"You both knew and intended that when you caught up with them you would deal with them."
Mr Wilkinson's mother Beverley Lawrie told the court she knew her son had been involved in dangerous work overseas but never expected he would die in New Zealand.
He worked on dangerous missions in "theatres of war" before returning to New Zealand after a near-death experience that caused him to question his mortality.
"The last place I expected him to be killed was New Zealand."
It was ironic, she said, that he came home because he believed it was safe here.
The day he was gunned down was when the "bottom fell out of my life. I just knew it was Donny that died. I waited for police to come and sure enough they did."
Skinner made the choice to kill. "They had the opportunity to turn away...They didn't have to shoot them. Skinner didn't have to kill my son."
Mrs Lawrie, 69, said she hadn't ever believed in the "abhorrent" death penalty but her son's murder had left her a "vengeful woman" with thoughts that she "wanted them dead".
She made it clear she didn't hold anyone else to account for his death. "I don't blame anyone else for Donny's death except Skinner. And Clegg."
Crown prosecutor Simon Moore said Skinner should receive a minimum non-parole period of 14-17 years.
In reply to submissions that Skinner thought the two officers, who did not identify themselves, were burglars, Mr Moore said the shooting was a "wholly disproportionate reaction".
Skinner's lawyer Marie Dyhrberg said the shooting was a tragic incident and its enormity was not lost on Skinner.
She said the incident "could be described as showing a man who one night in the heat of the moment, engaged in out of character actions".
Clegg's lawyer Graeme Newell said his client was saddened at the incident and hoped for forgiveness from Mr Wilkinson's family.
He said Clegg was reacting to a situation where he thought two people were trying to access his car while his girlfriend was in it.
The night of the murder
The night Sergeant Wilkinson and Officer M tried to install the tracking device, Skinner and Clegg were inside Skinner's rented Mangere home searching the internet for performance car parts.
It looked like a modest home, not unlike others on the street, but inside it was defended by air rifles, martial arts weapons, security cameras and sensor lights.
Neither of the men was shy about taking the law into his own hands.
Clegg was the first to notice movement detected by a security camera trained on the driveway.
Though the officers didn't know it, they had spotted Sergeant Wilkinson and Officer M who, under the cover of darkness and clad in black with tool bags around their waists, were creeping up the driveway.
They were almost at the Ford Explorer when they triggered a sensor that flooded the driveway with light.
Skinner raced upstairs to get a gun, while Clegg raced to his car, challenging the officers as he ran.
Both officers ran off heading for a pre-assigned safe point chosen in case the operation went bad.
As Clegg fired up his car, Skinner briefly confronted an old man apparently looking for his dog.
Skinner had no idea the man was the two officers' look-out man.
Giving chase in the car, Clegg and Skinner finally caught up with the two officers up a driveway around the corner.
Skinner later told the court he had been "in total fear" when he encountered the two officers.
He claims he fired shots into Wilkinson's chest because he feared for his life. He insisted he was acting on instinct and his memory went blank.
Skinner's lawyers argued their client had been in a terrifying situation that he later described as "the worst time of my life".
He told the court he simply had been protecting his family against what he perceived to be "home invaders".
But jury ultimately rejected his version of events. After nine hours of deliberation they decided he was the aggressor and guilty of murder.
- With NZPA