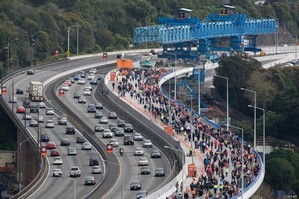 Auckland businesses are concerned traffic diversions to be put in place while the Newmarket Viaduct is developed will be bad for Father's Day business and create traffic mayhem.
The southbound segment of the Southern Motorway between Gillies Ave and Greenlane will be closed for up to 36 hours this weekend, meaning tens of thousands of vehicles will have to be re-routed.
Newmarket Business Association chief executive Cameron Brewer said commuters were being advised to stay well clear of Newmarket over the weekend, meaning already-struggling businesses would miss out on one of the busiest shopping days of the year.
He also questioned the Transport Agency's decision to re-route motorway traffic down Mortimer Pass, one of the smallest streets in central Auckland.
However, he did support the development as a whole.
Tori Percy, manager of clothing store Double Exposure, said she would not bother opening for business next Sunday because few customers were expected.
"And one of our staff members lives on the North Shore, so it's going to be a nightmare for them to get to work anyway," she said.
Euro Style manager Jacob Jarhbait said Father's Day was usually busy for his store, and he was disappointed it would not be able to cash in on it.
"I think if they chose last weekend or the weekend after it would have been much better," he said.
Yesterday, an estimated 15,000 Aucklanders walked or cycled across the three newly constructed southbound lanes of the viaduct, 18 months into the development of the city's busiest motorway.
A fourth southbound lane should be completed by early next year and construction of new northbound lanes and demolition of the old northbound bridge is expected to be completed by 2012.
Transport Agency spokesman Gez Johns said that while he understood the traffic diversions were an imposition on Newmarket businesses, every measure had been taken to ensure impact was minimal.
"We also want to make it absolutely clear to all would-be visitors to Newmarket that it is possible to get in there and the train service runs directly to the new train station in Newmarket."
Mr Johns said the visits of 15,000 people to the area yesterday would also mitigate the effects of next weekend's lost business.
- NZPA