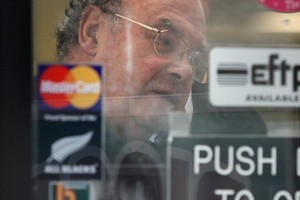 The pharmacist who fought off a burglar before the career criminal's heart failed is back at his counter.
Grant Gillard's business has been closed since the fatal struggle with Bruce Allan Jones, 43, on Tuesday.
But the Mt Albert pharmacy on New North Rd that he bought with his wife Vera in 1969 will reopen today.
Speaking publicly for the first time, Mr Gillard, 68, said he was tired from a big day cleaning up and organising in preparation.
"It was hard because it was a huge mess but at least we've got things operating now," he told the Weekend Herald, his voice husky.
"My voice has been affected because of [stress]. I'm not feeling particularly well but apart from that I'm not injured at all."
But he did not wish to discuss the events of early Tuesday until police had given him the nod.
Earlier, his lawyer, Richard Earwaker, said Mr Gillard had not considered giving up his business, after 40 years in the industry.
"It's what he does, that's his job," he said.
Yesterday morning, the pharmacist had to relive the incident in a scene reconstruction run by police.
"The whole ordeal was incredibly frightening for him," Mr Earwaker said, "and going back to the scene, he managed it very well but it brought back memories of that night."
Police refuse to say how it played out and charges have not been laid.
Mr Earwaker believed adrenalin had kicked in.
"Once he's able to talk about the incident it will become a bit clearer."
His client understood police had to investigate the incident, though he acted in self-defence.
A security guard alerted Mr Gillard to a break-in about 4.30am on Tuesday and he drove over from his Remuera home.
Police were not called initially as the burglar was thought to have fled.
Mr Gillard searched the pharmacy for 10 minutes with the security guard before the guard left. With a gaping big hole left in the back of the shop, he stayed on.
Jones - whose record includes causing a fatal car crash while high on cannabis, methadone and tranquilisers in 2003 - had been hiding in a storage room, Mr Earwaker said.
On medical advice, Mr Gillard rested at his Remuera home until the scene reconstruction yesterday.
The pharmacy was released back to him at 1pm.
Mr Gillard had been overwhelmed by support from pharmacists, friends and strangers, Mr Earwaker said. He had been burgled before but "nothing like this has ever happened".
Mr Gillard felt quite strongly about how police generally responded to burglaries, Mr Earwaker said.
"Police don't generally respond to burglaries unless there is somebody still on the premises."