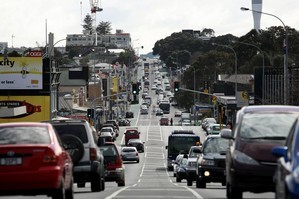 The battle for two councillor spots in Eden-Albert-Roskill will be close, fierce ... and at least two experienced politicians will miss out on Super City seats.
The election pits veteran campaigners and sitting councillors Cathy Casey and Glenda Fryer, from City Vision, against Citizens & Ratepayers' Christine Fletcher, former Mayor of Auckland, and sitting councillor Paul Goldsmith, who missed out on C&R's nomination for the Orakei seat.
Mark Donnelly, who left C&R in 2007 and is running as an independent under Focus Local, could be the wild card in the new ward.
Candidates will have to win votes from starkly different communities - the ward encompasses the wealthy streets of Epsom as well as McGehan Close in Owairaka, which John Key once identified as an example of New Zealand's developing underclass.
It is a rapidly changing area, with growth of 30,000 residents since 1996 and nearly half of its population born overseas.
The new ward is roughly made up of the current Eden-Albert and Avondale-Roskill wards of Auckland City Council. It melds two contrasting voting groups:
Eden-Albert is largely liberal and middle class, and a stronghold of City Vision. Mt Roskill is less straightforward. It has traditionally voted Citizens & Ratepayers on the strength of the Hay family, but tends towards voting Labour in the general elections.
It is also a suburb in cultural flux, and is no longer the white, Christian, conservative crowd which warmed to David Hay, the C&R leader who is retiring at this election, and before him, his father, Keith Hay.
Candidates' success could rely on their ability to convince Mt Roskill's communities that their local identity will be retained under the Super City.
With David Hay no longer running and Noelene Raffills contesting the Whau ward, City Vision feels it can win over the diverse Mt Roskill voters.
Ms Fletcher contested this - she said there was a strong groundswell of Pacific Islanders, Maori and ethnic groups which supported "conservative politics with compassion".
During her nine-year absence from local politics she has spent time on various trust boards, and chaired the Motutapu Trust.
The right-leaning Mr Goldsmith is campaigning to hold rates down while not stifling civic facilities, such as the Wesley Youth Centre he helped to set up as chairman of the community services committee.
C&R emphasised a team approach to run the Super City, with close relationships between ward councillors and local board candidates.
In the City Vision camp, the left-leaning Dr Casey said she had knocked on 5000 doors in the ward since June and the only thing that would let her down was voter apathy, especially among the "under-informed" migrant communities.
City Vision candidates were pledging to attend local board meetings so that the grassroots voice would not disappear under the new Auckland Council.
Mrs Fryer, who has strong ties to the Labour Party, was a staunch advocate of conserving Auckland's volcanic cones, many of which lay in the new ward. But she felt the central issue of the election was keeping Auckland's assets, especially water, from privatisation.
"I believe Rodney Hide has set the Super City up with CCOs in an effort to privatise what can be privatised, and the legislation has taken away any consultation requirements ... so whichever part of Eden-Albert-Roskill people come from, it concerns them."
A challenge to the big tickets is coming from Mark Donnelly, a sitting councillor and president of the Eden Park Neighbours Association. He said the division and politicking between C&R and City Vision had held Auckland back.
Two issues are likely to dominate the election race - the proposed upgrade of Dominion Rd, which runs the length of the new ward, and the moving of Monte Cecilia School in Hillsborough.
The council's proposal to transform Dominion Rd into a four-lane highway with no parking spots has been met with howls of indignation by residents and local businesses.
Save Dominion Road campaigner Penny Hickey said the plan "would ruin the pedestrian environment, damage or destroy the hundreds of businesses along the road, and move parking into residential streets in which parking space is already at a premium".
Ms Fletcher expected a vastly improved proposal would be tabled before the election, but City Vision does not want the process to be rushed.
In Hillsborough, Ms Fletcher and Mr Goldsmith stand by the decision to relocate the Monte Cecilia School to provide more space around historic Pah Homestead. They said it was very difficult finding parks in a densely populated city, and the Monte Cecilia space would become an enduring attraction.
Dr Casey and Mrs Fryer support keeping the school within the park.
CONSTITUENCY IN FOCUS
* Ethnicity: European 50 per cent, Asian 31 per cent, Pacific 11 per cent, Maori 6 per cent.
* Median income: $65,697.
* Median age: 33.1 years.
* Includes the centres of Mt Albert, Mt Eden, Mt Roskill, Epsom, Balmoral, Three Kings, Hillsborough, Lynfield, Sandringham, Waterview and Pt Chevalier.
CANDIDATES (TWO SEATS)
* Lisa Bates, Independent.
* Peter Boys, Albert-Eden-Roskill Ratepayers & Residents Association.
* Cathy Casey, City Vision.
* Mark Donnelly, Focus Local.
* Christine Fletcher, Citizens and Ratepayers.
* Glenda Fryer, City Vision.
* Paul Goldsmith, Citizens and Ratepayers.
* Susanna Kruger, Independent.
* Ravi Musuku, Independent.
* Harry Palmer, Independent.
* Gary Russell, Independent.