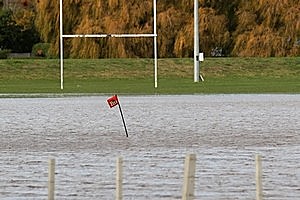 The final days of winter are going to be dominated by winds from the westerly quarter, meaning few frosts but no spectacularly hot or cold temperatures either.

The spring pattern continues to unfold and now we're seeing the typical changeable conditions really set in.

Gone are the frequent sunny days and frosty nights. The new pattern is westerly winds (either SW, W or NW) and plenty of shower activity in the west.

The weekend proved to be mild too - despite the sou'wester Auckland still hit 18 while Northland reached 19.

But much of the South Island struggled to reach the teens as a cold southerly lingered.

The nation is clearly split into two seasons - winter and spring. We have a number of places enjoying spring like weather while many others are stuck in a cold, wintry, weather pattern.
WeatherWatch.co.nz ran a poll last week asking if the past 4 weeks had felt like spring or winter. The results so far are evenly split.
At the time of writing this blog 52 per cent agreed it felt like spring while 48 per cent say it still feels like winter. You can still vote so click the link and have your say.

But even those stuck in the wintry pattern are still enjoying a fairly mild winter that has seen very little snow, gales and hail. This winter has not seen the extremes of previous years. The big snow dumps to low levels, the major national frosts, the big gales.

Even the rain has been limited, mostly to the typical La Nina regions - eastern New Zealand. Northern Otago, Canterbury, Hawkes Bay, Gisborne and Eastern Bay of Plenty.

This week sees a fairly settled start but by Wednesday a new low moves in - and it's a big one. Not aggressive though but large in size. That means a number of wet or unsettled days from Wednesday onwards. The upcoming weekend looks wet/showery too.

So August will end as it started...fairly mild and wet.