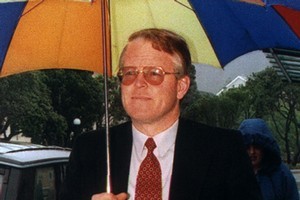 Another 'innocent' man is about to get out of prison.
Convicted double killer John Barlow will next week walk free from Wellington's Rimutaka Prison after serving about 15 years for the execution-style killings of father and son Eugene and Gene Thomas in 1995.
Barlow was convicted at a third trial after the first two juries could not agree on a verdict. He has had a Privy Council appeal dismissed. The 64-year-old will walk out to the support of his wife, Angela, and daughter Keryn.
The family maintains Barlow is innocent. Keryn has even completed the first draft of a book on the case, which she says reveals some of the torment the family has had to suffer.
Interestingly, Barlow's release comes at the same time another case of a man 'wrongly imprisoned', Scott Watson, gets new airtime.
A report from the body that investigates police behaviour, the Independent Police Conduct Authority, has hit out at aspects of the investigation into the Marlborough Sounds disappearances of Ben Smart and Olivia Hope in 1998.
The report says the way police investigated exposed their work to justifiable criticism.
Police montages of suspects were tainted and it could be interpreted the investigation team had preconceived notions of who was guilty. Importantly though, it says the errors had "no significant bearing" on the outcome.
Of course, the most high profile case of a man 'wrongly imprisoned' was David Bain, who last year was found not guilty of the murder of his family after a second trial.
He went to jail in 1995 for the killings, but was released when the Privy Council decided the convictions were unsafe. We are no nearer to knowing who committed the murders. Was it David, or his father Robin?
Later this year, the man who denies killing two Swedish tourists, David Tamihere, could also be released from prison on parole.
All four cases moved slowly through the courts; all four have maintained their innocence; and in all four cases there are small groups of supporters and conspiracy theorists who cannot be convinced their man is a killer.
Surely there are some guilty men in our jails?