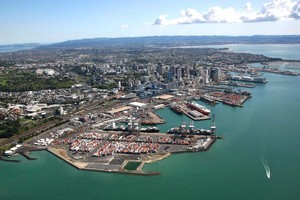 Many things fall out of newspapers these days. When glossy stapled magazines fall out of Auckland editions of the Herald every day next week, I hope they will be put aside for reading.
They have been a labour of love.
Six months ago, editor Tim Murphy suggested this would be the year to write Auckland's story.
The Super City might not be universally welcomed, it might have been promoted on some specious arguments and it might arrive with overblown expectations, but it would happen and at the very least it could offer Auckland a greater sense of itself.
South of the Bombay Hills, hardly anybody thinks Auckland lacks self-awareness, yet it does. It could be a syndrome common to the biggest city of any country, we hear the resentment from the rest and understand it.
Many of us grew up in smaller cities and feel slightly guilty that we have joined the population drift, abandoning birthplaces for the warm air and sea, the beaches, bays, islands and everything on the urban scale of Auckland.
So we don't talk about Auckland very much, except to reinforce provincial impressions that the streets are crime-ridden and chronically congested. That seems to relieve the resentment a little.
But we are doing the rest of the country no favours by pretending this is not a great city, or could be. Every country has a biggest city and at heart every country wants its metropolitan centre to be a point of pride and excitement.
Great cities have heritage. Auckland is curiously lacking monuments and historical landmarks. Cities such as Dunedin and Christchurch are festooned with public memorials to their founders. Auckland barely knows their names.
It probably doesn't help that it was the colonial capital and its founders were governors of the whole country. They were naval officers accustomed to shipboard order and obedience and all fell out with Auckland's merchant settlers.
Sir George Grey was the exception. He had a monument in the middle of Queen St until motor traffic arrived and it was in the way. Now it stands in Albert Park.
Auckland's settlers were different too. Other cities celebrate the arrival of pious yeomen coming all this way to establish farms and start a new life. Auckland's pioneers were land speculators, planning to stay only as long as it took to make a pile.
Even the "father of Auckland", John Logan Campbell, went back to Britain as soon as he built his business holdings to a level that could be left under management. Business problems brought him back eventually and he decided to stay.
This is not a heritage to endear Auckland to the rest of the country but it is authentic. It resonates with the city we are and we need to know it. A heritage of rootlessness sounds like a contradiction in terms but recognising it can repair it.
Reading Auckland's history I wondered whether the removal of the capital to Wellington in 1865 was more of a blow than the town has let historians know.
It quickly knocked down the building where early Parliaments met and appears to have lost interest in national politics. Its level of interest has not risen since.
Auckland's conversation remains refreshingly impatient with public policy and power games. Its merchant leaders tend to be tongue-tied in public affairs.
Auckland is defined less by history than geography. Climate and coastal attractions have made the city, and they are where I have started the story that will be published from Monday.
Not many assignments have been as interesting as this one. Look for the origins of climate and landscape and you are soon looking into the depths of the earth, trying to imagine massive movements of rock over unimaginable time.
History lives today in Treaty claims from numerous tribes laying claim to pre-colonial Tamaki and the wider Auckland region. Until six months ago I didn't know that none of them were in secure possession of the isthmus when Auckland was established.
Ngati Whatua, who had conquered most of the isthmus a century before, and Ngati Paoa who had what is now the eastern suburbs, had both fled from Nga Puhi firearms in the 1820s.
Ngati Whatua offered a site on the Waitemata for the colonial capital because a pakeha settlement offered security as well as trade.
It is just possible to walk around downtown Auckland today and imagine the early town. The flat harbourside land was not there, the hills were. Fort St was the beach on one side of a Britomart headland, Beach Rd on the other.
The first land auctions saw a speculative frenzy. Southern colonists were appalled. Auckland, they said, had more interest in trading land than farming it.
History does not predetermine our character or fate, it is just what happened to give us a heritage here.
Auckland: Our Story will be distributed with the Herald only within the Auckland region.