As Auckland merges to create a supercity, the Herald looks back at how Auckland has changed over the years. Click here to view the full series.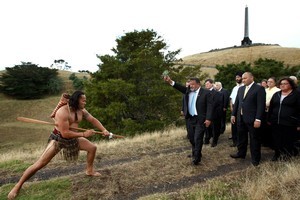 The rise of Ngati Whatua, the demise of Ngati Whatua and then the rise again is a story laced with irony and of two worlds living side by side yet not knowing each other.
But perhaps we now have a better story to tell as, instead of a more divided future, what we are actually seeing is a more integrated community with everyone able to participate on equal terms.
Ngati Whatua o Orakei holds mana whenua over central Auckland and, with assets soon to hit the half-billion dollar mark, is fast becoming a
powerhouse in the city's economic and political landscape.
Today Ngati Whatua o Orakei controls a property asset base worth in the range of $400 million dollars. This wealth hasn't come from Treaty settlements but rather a series of smart deals done over the past 15 years, the most successful being when Ngati Whatua was able to buy CBD fringe land for $40 million.
Without $40 million or even $1 million at the time, a deal was put together where Ngati Whatua bought the land and sold a 150-year lease to a developer, with a lump sum 15-year prepayment of rent received up-front.
This lump sum was used to pay the purchase price for the land.
The initial 15-year rental prepayment period expires in August 2011 and then a steady revenue stream will flow to Ngati Whatua.
Meanwhile, the value of the holding has increased exponentially.
At about the same time, early in 2011, the hapu's Wai 388 Treaty Of Waitangi claim should be completed which includes a similar property deal where Ngati Whatua will buy $80 million of naval housing land at Devonport and utilise a rental prepayment mechanism for approximately 20
years, taking their asset holding to around half a billion dollars.
What is interesting to note is that Ngati Whatua is prepared to take a very long-term investment view. And that is the strength of Maori economics in the 21st century.
Ngati Whatua leader the late Sir Hugh Kawharu, who was Cambridge and Oxford educated, was adamant education would provide a vital pillar of development for the future of Ngati Whatua.
There are now a range of scholarships and education grants that the hapu makes available to its descendants.
Leaders are now determining how to distribute the returns from investments in a way that will build the capacity of the hapu and capability of individuals within Ngati Whatua.
Politically, Ngati Whatua is taking a stronger role in Auckland with connections throughout business, local and central government and all areas of the community.
There are sets of protocols that come with being mana whenua. Ngati Whatua sees that it has cultural responsibility to extend manaaki or appropriate hospitality to those who come in to Auckland.
It has a responsibility to represent people and wants to take a stronger role in ensuring all people have representation. That is why it seeks to have representation on the new Super City council.
As a people who have been dispossessed, Ngati Whatua knows what that feels like and so takes the role of the city's conscience.
Closer relationships have been formed with other iwi in the Auckland region and opportunities for closer cultural, community and business associations are being developed.
Much of what Ngati Whatua has been saying about the environment, community, land ownership, and governance of the city for 170 years has proved to be correct.
The present chairman of the Ngati Whatua Maori Trust Board is Grant Hawke. To meet him today you will find a warm, wise, welcoming, white-haired gentleman - in the truest sense of the word. His stories are worth sitting and listening to. He was a key player in the non-violent
protests of Bastion Point and has a benevolent approach to life and
people.

In a long line of leaders before him who have had to keep their people together through attaining and holding power, through battle, treachery, judicial and institutional abuse, lies, indifference, despair and triumph, he has much to occupy his mind.
His decisions now encompass large-scale financial deals, family housing, retirement homes, local government issues, tribal governance
and hospitality for dignitaries arriving in New Zealand. He is one of a small group that hold high rank within Auckland's wider community leadership.
These days he and other kaumatua have a steady stream of requests to attend or be guests of honour at events throughout Auckland. But this same man can tell stories of having to go down to the public showers at the beach at Okahu Bay with his family to wash among the disapproving
beachgoers as the council had cut off water to the Ngati Whatua homes.
Instead of anger when relating those stories however, there is a ready twinkle in his eye. The deep lines around his eyes speak of the pain of his ancestors and sadness that so many of the old people have not lived to see the Ngati Whatua of today or what it is yet to become.
But the easy smile and brightness in his eyes tell a story of a positive and hopeful future. The story of Ngati Whatua is the story of Auckland and the story of New Zealand - just told from a different angle.