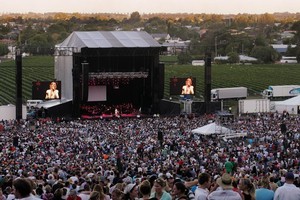 A BYO liquor licence will not be granted for summer's Mission Concert in Hawkes Bay.
The move ends 18 years of revellers taking their own alcohol into the winery grounds.
A recent court decision confirmed such licences were against the law.
The annual concert, which draws crowds of up to 25,000, will now be fully licensed, and organisers are promising that alcohol sold on site will be reasonably priced.
Director Geoff Jones from promoters SEL said he thought the impact on crowd numbers for the February 12 concert would be negligible.
"We think it will encourage a section of the public who might not have come before, and we hope all those who have come before won't be turned off."
While some would be upset, Mr Jones said, there had been feedback from others who preferred the event to be licensed.
He said the decision wasn't taken lightly, but the change was "a sign of the times".
"We've looked around and don't believe there are any other events of this magnitude in New Zealand where BYO is allowed."
Mr Jones said the number and size of bars on site would be increased.
Mission Estate chief executive Peter Holley said the concert had been fortunate in previous years to enjoy BYO status.
"We're going to make every effort we can to ensure that patrons enjoy themselves and at the end of the day it's the same event, but people are going to buy their beverages at the site," Mr Holley said.
Sergeant Nigel Formosa of Napier police said the recent court decision had confirmed BYO licences could not be granted as part of a special licence.
There had been problems in previous years with levels of intoxication.
"That has always been a concern and that's why we tried to put some limits on the BYO."
Ticket-holders at this year's concert were given an "abuse it and lose it" warning and told rules might be toughened up if liquor limits were ignored.
Of 11 arrests, police said intoxication was a factor in 10.
- APN