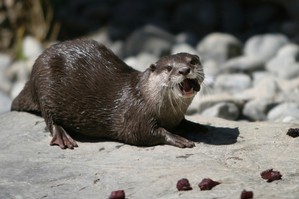 One of Auckland's most famous escape artists of the past decade has died in Wellington Zoo.
Jin the short-clawed Asiatic otter was found dead in her enclosure on Monday morning, the zoo said in a statement today.
Jin became a national celebrity when she escaped from Auckland Zoo and spent 26 days in various locations around Waitemata Harbour.
After 26 days of freedom, Jin was captured on Rangitoto Island and subsequently transferred to Christchurch's Willowbank Wildlife Reserve.
Jin arrived at Wellington Zoo with her breeding partner Jala in November 2007, For the past six months she had been introduced to a new breeding partner named Bud but she was unsuccessful in delivering any pups.
"Our keepers noted that she was a feisty animal, always ready to try to nibble at their boots when they were caught unawares - they learnt to become ever more vigilant at these tactics over the years," the zoo said.
Jin escaped from Auckland Zoo on the harbour's southern coast on June 14, 2006, after escaping from a nesting box which wasn't properly secured to the wall of the otter enclosure.
She swam across to the Chelsea sugar factory on the northern coast, then on to the plush suburb of Devonport, leading one zoo spokeswoman to comment favourably about her taste in real estate.
Jin later swam to Rangitoto Island, then back to the North Shore to Narrow Neck Beach, before returning to Rangitoto, where she was captured.
All up she was estimated to have swum at least 20km.
A post mortem examination is being held at Massey University to try to establish why Jin died. Wellington Zoo is now actively looking for a new breeding partner for Bud.
- NZPA