As Auckland merges to create a supercity, the Herald looks back at how Auckland has changed over the years. Click here to view the full series.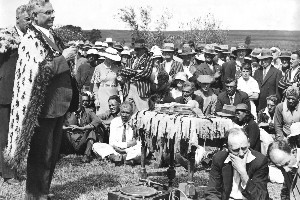 One day in 1908 a Ponsonby couple, Alf and Elizabeth French, opened the door of their home at 63 O'Neill St to a small man in his mid-30s who was looking for lodging.
He carried a letter of introduction but, probably more telling, he had just freed their infant daughter who had caught her dress on the picket
fence outside.
The man was an Australian who had come to New Zealand the year before and had been working down country at a flax mill in Manawatu. The mill had closed for the winter and he'd come north looking for better weather.
He called himself Mick Savage.
He was penniless when they took him in. Alf French, a linotyper on the Auckland Star, lent him 6d to get a haircut before he went job hunting.
Savage was also advised to use his second name, Joe, writes biographer Barry Gustafson, because prejudice against Irish Catholics was prevalent in parts of the city at that time.
Savage found work in a brewery at the bottom of Khyber Pass. By the turn of the 20th century Auckland had become the largest town in a young country with one of the highest living standards in the world. It was the financial centre and principle port for an economy strengthened by the discovery of refrigeration that widened the range of farm products shipped across the globe.
The standard of living was marginally higher even than the similar economy of Australia, and Savage was one of thousands who crossed the Tasman at that time. Between the censuses of 1901 and 1906 the Australianborn population of New Zealand nearly doubled.
Gustafson records that a fellow Victorian mine worker, Paddy Webb, had migrated and had written to Savage praising New Zealand's social and industrial legislation. The Liberal Government of Richard John Seddon,
who had died the year before, was still in office having introduced
an old-age pension, given women the right to vote and set up a system of arbitration for employment disputes.
Every day Savage walked to work from Ponsonby to Newmarket and walked home in the evening, a distance nobody thought remarkable at the time.
The work he did was largely unskilled. Hancock Brewery, owned by Moss Davis and his sons Ernest and Eliot, was one of the country's largest and conditions were good.
Eliot Davis remembered that at lunch breaks Savage liked to read or discuss politics. Working men of Savage's generation were the first to have the benefit of a basic education. Free compulsory primary schooling had been introduced in New Zealand 30 years previously.
Children born into working class households might still lack opportunities for higher education and better-paid careers but they had been taught to read, write and count.
And some such as Savage had absorbed the new thinking called socialism that counted them unjustly paid within a system that rewarded providers of capital with returns on wage-earners' labour.
Savage had been an avid unionist in Australia and almost immediately
he was made president of the Auckland brewery workers' union. By 1910 he was president of the Auckland Trades Council.
But his first loyalty, Gustafson records, was to the Auckland Socialist
Party which decided at its inaugural meeting to purchase a red flag, and hold open air meetings on Sunday afternoons at which "Comrade Savage" would speak.
The union movement was dividing - between moderates who wanted to work within the arbitration system and radicals, "Red Feds" they were labelled, who wanted to replace capitalism with state ownership of all production, distribution and finance.
Savage, Webb, fellow Australian immigrants Bob Semple and Harry Holland and Scotsman Peter Fraser, were Red Feds. At the 1911 parliamentary election Savage stood for the Socialist Party in Auckland Central, calling for the overthrow of capitalism at his campaign opening in the Federal Hall at the top of Wellesley St West.
Nationally the election that year was inconclusive but the ultimate winner was another Aucklander, the Franklin farmer and leader of a new conservative Reform Party, William Ferguson Massey. A miner's strike at Waihi in 1912 brought down the Liberal Government and put Massey in
power. He dealt quickly with the strike, jailing its leaders, though
not before a policeman was shot in the stomach and a miner, Frederick
Evans, suffered fatal injuries at Waihi.
The following year Massey dealt equally decisively with a waterfront strike, enlisting farmers as special constables - "Masthem - to deal with disruption and keep goods moving across the wharves.
Massey went on to win the elections of 1914, 1919 and 1922. By the time he died in office in 1925 he had been Prime Minister for as many years as Seddon.
He remains the longest-serving Prime Minister from the Auckland region.
To succeed him the Reform Party chose another Auckland MP, John Gordon Coates, whose Kaipara electorate included Albany and Browns Bay. Coates won a resounding victory at the 1925 election, but his tenure was not to be as successful.
The defeated strikes of 1912 and 1913 had convinced the union movement to unify for parliamentary representation. The Labour Party formed in 1916 with Holland, Semple, Savage and Fraser to the fore, and Savage won the seat of West Auckland (Ponsonby) in 1919. World War I had cost thousands of New Zealand lives and Labour had opposed conscription, believing, like socialists everywhere, that the war would be capitalism's last gasp.
In the 1920s, as the system proved resilient, the party moderated its policies. At the 1928 election Labour won enough seats to deny Coates another term and put the Liberals back into office as the United Party.
The Great Depression hit New Zealand in the summer of 1930-31.
Unemployment rose fivefold from September to March. In September Coates' party was invited into a coalition with United to deal with the crisis.
A few months later the coalition was endorsed at an election. Voters still did not have sufficient confidence in Labour. The Depression deepened as the coalition cut public spending and wages in accordance with declining revenue. Relief work was provided at distant camps where
men lived in tents while their families in places such as Auckland
struggled to afford enough food, let alone warm their homes or repair their clothes.
In April 1932 Queen St witnessed a riot of anger and despair.
Unemployment rose to more than 100,000 in 1933, the year Savage became leader of the Labour Party. By then it was clear nothing could save the coalition at the next election.
Labour came to power in 1935 with a daring programme of public spending and a mandate to carry it out. First there was a Christmas bonus for the unemployed, then an increase in student teachers so that five-year-olds could return to school.
State mortgage foreclosures were suspended, dairy farmers given guaranteed milk returns, union membership made compulsory and all award wage rates restored, along with minimum rates and limited working hours.
A public works programme was launched, state housing started and preparations were under way for the first Labour Government's monumental legacy - social security, heavily subsidised health services and adequate welfare entitlements for most of life's hazards.
The Depression might have been abating when Savage's Government came to power but its economic stimulus was welcomed and the little man with the kindly eyes had his portrait mounted on many a grateful family's wall for a generation after.
Reference: From the Cradle to the Grave, A biography of Michael Joseph Savage, by Barry Gustafson. Reed Methuen, 1986.