As Auckland merges to create a supercity, the Herald looks back at how Auckland has changed over the years. Click here to view the full series.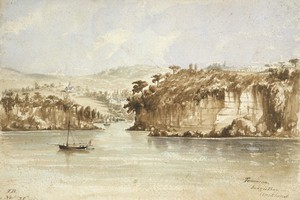 In October 1840, officials drew up a deed for the transfer of an estimated 3500 acres (1400 hectares), roughly in a triangle between
Hobson Bay, to Cox's Creek and Mt Eden. Ngati Whatua had walked the boundaries with the Governor's officials and later protested that the
eastern boundary was Taurarua(Judges Bay).
The Crown from the very first had tricked Ngati Whatua out of 500 acres.
From Ngati Whatua's point of view the transfer of land was done with the intention of setting up an ongoing relationship where land would be
provided for settlement, in return for participation in the economy and politics of the new capital.
Since that time there has been disagreement over whether Ngati Whatua sold that land to Hobson or gifted it.
Ngati Whatua remains adamant it was a gift as, under their system, the only way to lose or gain mana in land was through warfare. In quick time the Pakeha pen proved mightier than the sword.
Ngati Whatua had no experience of the consequences of transfer of title under English land law. They had conferred land use rights to related tribes in central Auckland, akin to leases. When those tribes no longer occupied the land it would return to its owners. No chief would readily
cede his rights, his mana to his land.
While the officials recorded a land sale with the exchange of £50 and goods amounting to around £215, from Ngati Whatua's perspective the money and goods were tokens acknowledging and sealing a new reciprocal and mutually beneficial relationship.
Later, as recorded in the Native Land Court in 1868, Judge Fenton asked Te Kawau: "Who were the people who sold Auckland to the Europeans?" Te Kawau replied: "I did not sell it, I gave it to them."
When then asked: "Did not the Government give you and your people payment for it afterwards?" Te Kawau answered: "No, I have been looking constantly for payment but have not got it."
For Ngati Whatua, the reference to "payment" indicates Ngati Whatua had expected a reciprocal relationship that had not eventuated.
In 1839 the British Government had instructed Hobson to protect Maori in the purchase of land. The Secretary of State for War and Colonies, the Marquis of Normanby, had stated that all land dealings with Maori should be conducted on the principles of "sincerity, justice and good
faith", adding that Maori "must not be permitted to enter into any contracts in which they might be the ignorant and unintentional
authors of injuries to themselves".
He also required acquisition of land for European settlements "must be confi ned to such districts as the natives can alienate without distress or inconvenience to themselves".
In the years that followed, land deals continued but the instructions
of the Marquis of Normanby were largely ignored. At one auction in 1841 the Crown received £24,475 for 44 acres of the 3500-acre block for which it had "paid" Ngati Whatua £273 only six months before. Such deals show Ngati Whatua did not understand the value of transactions they were allowed to enter into.
Within five years of signing the Treaty of Waitangi, 78,000 acres had been lost by Ngati Whatua. West Auckland, areas around Albany, Onehunga, Mangere, Mt Wellington, Mt Roskill, all of the North Shore to and beyond Torbay, and all of central Auckland from Westmere to Avondale to Blockhouse Bay to Royal Oak to Epsom and Grey Lynn were in the ownership of settlers. All that was left was 700 acres at Orakei.
The relationship with the settlerswas also changing with war in Taranaki and the rise of the Maori King movement that put the European Government on edge.
In 1860 Ngati Whatua hosted a Kohimarama Conference where Ngati Whatua leader Paora Tuhaere pushed for Maori to be included in the governance of the country and also affirmed Ngati Whatua's loyalty to the Queen's
sovereignty.
But rumours of a Maori attack on Auckland provoked deep suspicion and harassment of Maori in Auckland by some settlers. In response to questions about their loyalty, Ngati Whatua chief Te Hira was moved to write to the Southern Cross newspaper: "We have heard your taunts in your newspaper about calling us black fellows. Our blackness lies in our skins not in our hearts."
It was a low point in New Zealand history. Ngati Whatua and other friendly Maori were subject to curfews and, reminiscent of the Jews in World War II, were required to wear identification badges made of deep scarlet coloured chevron cloth on their right arm to show they were loyal Maori.
Over the following years Ngati Whatua protested the destruction of its seafood resources as the reclamation of the harbours advanced at a pace.
In the 1840s and 1850s Ngati Whatua had provided much of the fresh seafood and other produce for the growing city of Auckland. Ngati Whatua waka or canoes also carried a significant proportion of the trade goods into the Auckland market.
Reclamation and pier building began in 1851 and continued through that decade with great destruction of shellfish beds and access to fishing.
Te Kawau would never have predicted the long decline in fortunes that would beset his people following their signing of the Treaty of Waitangi and inviting Hobson to set up his capital.
Looking across his people's former estate he composed a lament for his land and his people:
"Te Ao Kapua, e rere mai ra, kei te moana e, i konei au, mihi atu ai, tangi atu ai, ehara i te tama, he whatu toto e."
(The clouds on yonder horizon across the sea are playing with the winds, whilst I am here yearning and weeping for my son. Ah the land is more than a son to me. It's my heart's blood.)