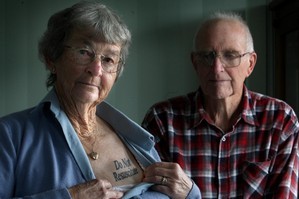 Jan Follas has made sure there is no confusion about her wishes if she ends up in a hospital bed unable to communicate.
The Papamoa woman has had "Do Not Resuscitate" tattooed on her chest.
"If and when the time comes, I want to go naturally. If that's my time, that's when I'm ready to go."
It's a view she shares with husband Eric. Mr Follas wanted the same tattoo, but was told his skin was not suitable for ink.
The couple, aged in their 70s, are supporters of euthanasia campaigner Lesley Martin's Dignity NZ Trust.
Mrs Follas is the co-ordinator of the trust's Bay of Plenty group, which meets monthly to discuss euthanasia issues.
Although about 20 members meet each month, Mrs Follas said there were many others who believed in the cause but did not want to officially join or attend meetings.
"There's even some people in our group that don't want other people to know they belong, because their friends don't believe in it.
"I think if [euthanasia] was more in the open, and definitely if it was legal, we would get a lot more [supporters] come out of the woodwork."
Like Ms Martin, the Bay group wants to see euthanasia legalised.
Mr Follas said: "We would like the choice to say 'time is up, let us die with dignity'.
"We are certainly not trying to say this is the way to go [for everyone]. This should be our choice - it doesn't have to be your choice, or anybody else's choice. Everybody should have their own choice."
The couple have always felt strongly about the issue but their views have been cemented after watching family and friends die painful deaths.
Mr Follas' brother died of a brain tumour about 25 years ago.
Mrs Follas said: "He was in unbearable pain. I used to sit with him so his wife could have a break, and he used to beg me to help him die, [saying] 'please kill me'."
Although the couple want to see voluntary euthanasia legalised, they hope they will never have to use it.
"It's peace of mind that it's there," Mrs Follas said. "I simply believe my life, my choice."
The couple have "living wills" expressing their views on resuscitation and life support.
Their choices are supported by their son and daughter, who also have living wills, and have agreed to respect their wishes.
Mrs Follas believes most doctors will also respect her wishes. She said most medical staff who had seen her tattoo had been supportive.
The couple hope to travel to Wellington to attend the National Conference on Assisted Dying, organised by the Dignity NZ Trust, in October.
- APN