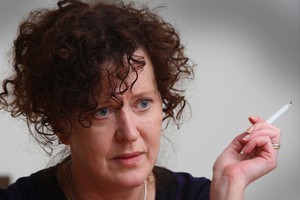 Broadcaster and soon-to-be brothel owner Pam Corkery was once so desperate for booze she would have drunk Brasso, she reveals in a candid interview about her 30-year battle with alcoholism.
"I didn't hit the bottle, it hit me. Alcohol was my crutch, friend, lover, reason for being, or reason to wake up ... To get to the liquor store," she says in the New Zealand Listener on sale tomorrow.
Corkery describes an incident at Gold Coast Airport last year when she tried to back-track through Customs after finding the bar was closed for renovations.
"I kicked up bobsy-die. I wanted to go back. They said, 'Well, you can't enter and leave the country - again - to have a drink'."
Corkery went to a cafe in the boarding lounge and drank "about eight" bottles of pre-mixed vodka drinks and drank beer on the plane.
When she got home, she opened a bottle of duty-free whiskey she had bought for a friend: "I would have drunk Brasso at that stage."
By dawn Corkery was out of booze, so she took valium to get through until 9am when a liquor store opened.
She was feeling so ill she called an alcohol helpline that she said advised her to keep drinking to prevent a withdrawal seizure.
"They said 'Just keep up a maintenance arrangement of drinking and then come and see us'," she said.
"You can die from an alcohol detox."
She has been alcohol free for a year and is preparing to launch New Zealand's first brothel to service a female-only clientele.
Called Pammy's, the brothel will feature a bar, spa and up to 28 rooms - some especially for VIP customers.
Corkery met property developer Andrew Krukziener about three weeks ago to discuss the possibility of using part of an empty building he owns on Commerce St in downtown Auckland.
Krukziener said Corkery had a look at the building and the pair "had a chat".
"But there has been no communication since. She's looking at buildings in the central city and talking to different people."
The brothel will feature in a TV reality series - including auditioning men for the brothel in front of a celebrity panel of six women.
Filming begins next month.
- Additional reporting Anna Leask