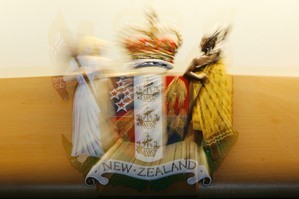 A woman on trial for murdering her 13 month-old son showed "no emotion" as the infant lay dead on her bed, an Auckland jury has heard.
Prosecutors allege the 29 year-old mother-of-two deliberately left the child to drown in a deep bath because she was "desperate" and couldn't cope with with looking after him and his older sister.
She has pleaded not guilty to murder and is defending the charge at the High Court at Auckland.
When her trial began yesterday her defence counsel, John Anderson, said the "awful" death was "accidental" and that she had been in a depressive state.
The accused has interim name suppression. The names of her husband and dead son also cannot be reported.
Her husband today told the trial what happened when he returned home from work, on November 8 last year, to find his son dead.
The father said he checked his son's body and knew it was too late for CPR to help him. When asked if his wife was following him around the house at that time, he said he couldn't be sure.
"I wasn't concentrating on her. I was concentrating on [the deceased baby]."
Mr Anderson asked him if his wife seemed scared.
"I could not see any emotion from her because she was not even crying," he replied.
The court heard he was out of their west Auckland house for about an hour-and-half and rushed through his work so he could get back home and see his family.
He didn't say goodbye to his wife that morning, just brushed his teeth and left. His wife was acting in the same quiet way she had in the months leading up to their son's death.
In that time she'd become withdrawn and lost a lot of weight.
The 13 month-old boy and his 5 year-old sister were given back to the couple by Child Youth and Family two days before his death.
Yesterday the court heard the woman left the baby in the bath, surrounded by toys, and went and made her daughter breakfast.
The door to the bathroom was closed and the TV on so she couldn't hear anything, Crown prosecutor Rachael Reed said in her opening address.
When she discovered him face-down in the water she shook him and lay him on a bed in the main bedroom, wrapped in towels and blankets.
Ms Reed said the woman then sat on the computer for 25 minutes until her husband came home. While she was on the computer she visited a news website and several friends' Facebook pages.
A paramedic, Bernard Wong Doo said "no-one was forthcoming with information" when he and his partner arrived at the home.
They didn't know what to expect because all they had to go on was a 111 phone call of a person screaming, "My son, my son".
As they walked up the driveway wailing and crying could be heard coming from inside.
Mr Wong Doo went inside and found the father sitting on a couch cradling a baby in his arms, saying: "My son, my son, he's gone, he's gone."
The baby was limp and its eyes were open "staring blankly".
A heart monitor reading gave out straight lines, meaning no signs of life.
He said the mother told him he'd been like that for 45 minutes but he couldn't be sure at what point he was told the baby had been in the bath.
Earlier today, a neighbour, Zelma MacDonald, said she was phoned by the defendant at 8.19am on the morning of the drowning.
She asked if her 5 year-old daughter could come over and play with the defendant's son, but he was wasn't able to because the son was away from home.
Prosecutor Christine Gordon SC: "How did she sound on the phone?""
Ms MacDonald said she sounded "really down". She asked her if she was okay and was told that she was.
Mr Anderson, in cross-examination, put it to her that since the boy's first birthday, two months before he died, the defendant's behaviour had changed significantly.
Ms MacDonald agreed it had, the defendant was so quiet she hardly spoke.
The trial continues.