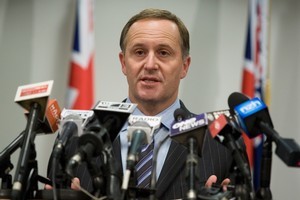 National Party MPs might be allowed a conscience vote on a Labour Party bill that proposes lowering the drink-driving blood alcohol limit, Prime Minister John Key said today.
The Government decided last month not to lower the limit from 0.08 milligrams to 0.05 milligrams per millilitre of blood, saying it needed to collect data for the next two years to find out what the effect would be and to demonstrate to the public that a change would be effective.
Labour MP Darren Hughes has drafted a member's bill that proposing lowering the limit to 0.06mg, saying the Government is "dithering" and there is already clear public support for the change.
He asked in Parliament last week, while Mr Key was away, whether the Government would support his bill and Internal Affairs Minister Nathan Guy, answering on behalf of Transport Minister Steven Joyce, accused Mr Hughes of playing politics and said the Government wouldn't support the bill.
However, Mr Key said at his post-cabinet press conference today drink-driving issues were usually dealt with by conscience votes.
"I imagine it would be a conscience vote," he said.
"I know there's a wide range of views within our caucus.
"So that's something I would have to take to caucus, but off the top of my head I'm not proposing to stand in its way."
Conscience votes mean MPs can make up their own minds on the way they vote, and are not under instruction from their party.
If a conscience vote was held on Mr Hughes' bill it would have a good chance of passing.
It has support from some of the minor parties, and if a few National MPs decided to back it Mr Hughes would have the numbers on a first reading.
And if the biIl passed its other stages and was enacted, that would mean Labour would have implemented a law change the Government says needs two years' research before a decision can be made.
Before the bill can be debated it has to be drawn from the member's bill ballot. Two or three bills are usually drawn every second Wednesday the House is sitting, and there are more than 40 bills in the box.
Some come out soon after being drafted but others have waited years before coming up for debate.
A TVNZ poll released tonight showed 64 per cent of voters favoured lowering the blood-alcohol limit, while 34 per cent thought it should stay the same.
Other surveys have shown similar results, with a majority favouring lowering the limit.
The TVNZ poll questioned 1000 voters and had a margin of error of plus or minus 3.1 per cent.
- NZPA