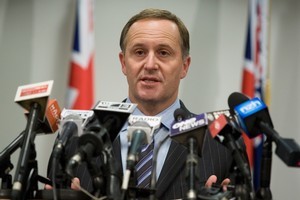 Those on an invalid or sickness benefit may find themselves having to defend their right to it if changes are made based on recommendations by a report into the welfare system.
The Welfare Working Group (WWG) was established by the Government in April to review the welfare system and recommend how to improve economic and social outcomes for those in it.
A discussion document it released today said long-term benefit reliance had become increasingly prevalent and may make the system unsustainable.
Prime Minister John Key said the group was intended to be free thinking and would examine a wide range of ideas but the issues it raised today were not surprising.
"Our welfare system should be affordable and sustainable and it should encourage people who can work to get back to work."
It must be fair to those who rely on assistance and those who pay for it, Mr Key said.
There were economic and social costs to having 377,000 people of working age on a benefit and it was too many people for an economy of New Zealand's size, he said.
The Government had already introduced legislation to do get beneficiaries back into work - including requiring parents on the dependent persons' benefit to go back to work once their youngest child was six.
Long-term welfare dependency imprisoned people in a life of limited incomes and limited choices, Mr Key said.
"In some parts of New Zealand you are seeing inter-generational welfare dependency... often now to a third and potentially fourth generation."
The number of people on the unemployment benefit who had been there for 10 years of more was believed to be as low as 0.3-0.5 per cent.
The number of people who had been on the invalids and sickness benefit for over 10 years was much higher and Mr Key said those people must receive the benefit for genuine reasons.
"Some people who are on the sickness and invalids benefit are actually able to go and work, maybe only part-time, so I think you can't just totally dismiss those benefits," he said.
The Government must ensure there was the right policy and settings to ensure people were not trapped in the welfare system.
There were examples of people trapped on welfare and other evidence of little incentive for people to move into work, Mr Key said.
"If someone in New Zealand is genuinely on the invalids benefit and they have been for a long period of time because of their disability then our society should support them."
The challenge was making sure that everyone truly needed that welfare, he said.
The WWG was due to present its finally report at the end of the year and Mr Key expected the Government would follow some of its recommendations.
He refused to comment on what they might be.
"It is my expectation that at least some of their ideas will be taken up."
- NZPA