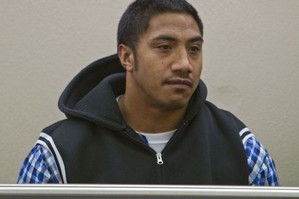 The victim of a home invasion has told of feeling "so helpless, tied up and gasping for air in the dark" after three men broke into her home, tied up her and her elderly mother and ransacked the house.
Lokenitama Filipo, 28, Cody Pomare, 23, and Rangi Pauu, 25, were jailed for 7-1/2 years today after pleading guilty on April 21 to two charges of aggravated robbery after the incident this year.
They were each sentenced to 7-1/2 years' jail, with a minimum non-parole period of five years, when they appeared at Pukekohe District Court today.
The victims, Barbara Ann Glover, 71, and Ann Shanley Glover, 41, were attacked while sleeping at a rural property in Miranda, 40km east of Pukekohe, about 11.30pm on March 17.
In her victim impact statement, Ann Glover said she had never felt so scared in her life.
She was shocked to discover Pomare had worked as a shearing contractor on the family farm,
"We had shown him hospitality, and to think that one of our shearers could be responsible for such a terrible act is unbelievable," Ms Glover's statement read.
Sentencing the men, Judge Gerard Winter said the psychological scars would stay with the victims for a long time.
"The victims were vulnerable because of their age. They were bound while the offenders rifled through their house, and left 'hog tied' - even their mobile phone was stolen so they could not call for help," Judge Winter said.
Crown prosecutor Kevin Glubb said the incident was premeditated, planned and executed.
"They were heavily disguised and were armed with two knives and what was believed to be a firearm.
"The victims were detained effectively and restrained using tape and cloth.
"Both victims were in their rural home late at night and they should have felt safe," Mr Glubb said.
The men woke up the two victims and demanded to know where their safe was, the court was told.
When told there was no safe, the three men crudely bound, tied and restrained each victim's arms and legs together with tape and cloth.
They then ransacked the house, eventually taking jewellery, bank cards, a cell phone and other personal items.
The victims were left bound after their attackers left the house, but they managed to free themselves and drove to a neighbour for help.
Both victims suffered grazes and bruising during the incident.
Melinda Mason, for Filipo, said he understood what he had put his victims through, but wanted them to know he wasn't a "monster".
"He felt so sickened by his behaviour that he didn't want anything to do with the stolen items. He has continually expressed disgust at himself," Ms Mason said.
Richard Blackwood, representing Pauu, said he became involved on the spur of the moment and had learned a painful and expensive lesson.
Nalesoni Tupou, for Pomare, said his client regretted his actions.
"It was a bad choice at the time, and he's expressed his remorse," Mr Tupou said.
All three men have previous convictions in Australia. Pomare was convicted for a violent robbery, with Filipo and Pauu convicted for assault causing bodily harm. They met in a detention centre in Australia and were deported to New Zealand this year.
A fourth man - Thomas Metera, 43 - has pleaded not guilty and will face a trial on a date yet to be set.
- NZPA