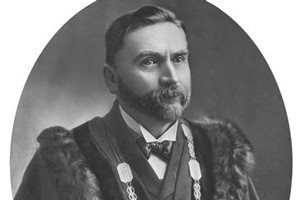 Eighty-six days before the swearing-in of the first Super City mayor, it is not known whether the pomp and ceremony will include mayoral chains.
The agency organising the mayoral swearing-in does not have a coat of arms for the Super City, considered a vital part of mayoral chains.
One suggestion is to have a half-completed chain ready to slip round the neck of the mayor. Another is to cobble a new chain from sections of the mayoral chains of the existing seven councils and one regional council being merged into the Super City.
The Auckland City Council mayoral chains go back to Philip Philips, the first mayor of the city from 1871 to 1874.
But the high point of chain history came with the loss of the Waitemata City mayoral chains in 1986.
They were lost from Mayor Tim Shadbolt's car in 1985, then reappeared in a Ponsonby letterbox.
They disappeared again the following year, never to be found. The mayoral robes were next to go.
"First it was my chain, then a set of keys off my desk, and now this," Mr Shadbolt said.
Auckland City Mayor John Banks, who has a soft spot for pomp and regalia, said the Auckland City mayoral chain was probably the most valuable civic heirloom in the country, containing links with the names of the 39 mayors, including two for himself and Sir Dove-Myer Robinson, the only mayors to have lost the job then been re-elected.
Manukau Mayor Len Brown, lined up against Mr Banks as the other heavyweight contender for the Super City mayoral chain, said he would like to see the existing chains displayed at the new home of the Auckland Council in the Town Hall to respect the history and communities of the current councils.
Even though nothing in law says councils must have a coat of arms or mayoral chain, Mr Brown favoured an emblem of authority as a reminder of the "weight around your neck" of the people.