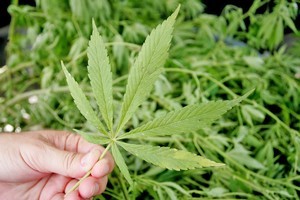 A drug dealing 12-year-old took a kilogram of cannabis to sell to his mates at an intermediate school.
The kid with the stash, worth about $7000, was busted when his friends at Auckland's Manurewa Intermediate were caught smoking some of the cannabis.
The 12-year-old had been given the drugs by a family member to sell at school.
The incident underlines a worrying trend of drug use by intermediate and primary school pupils, which is borne out in the latest statistics.
Pupils at 109 New Zealand primary and intermediate schools were stood down or suspended for drugs last year, figures released to the Herald on Sunday under the Official Information Act show.
They also reveal nearly 100,000 pupils have either been suspended or stood down in all New Zealand schools since 2007 for a wide range of offences.
But it is the drug statistics among our youngest pupils which are the most concerning, say educators.
Staff at Manurewa were stunned when the 12-year-old was caught with the kilo bag of cannabis.
Board chairman Gary Rogers said the police were called because of the amount of cannabis involved.
Staff became aware after pupils caught smoking said they had taken it from the boy's desk.
After an investigation the 12-year-old was excluded from Manurewa.
Manurewa suspended five pupils and stood down eight others last year for drug-related matters, the most of any New Zealand intermediate or primary school.
Tamaki Intermediate stood down 10, and Ponsonby Intermediate eight.
Napier's Manutuke School stood down 11 pupils, while Rotorua Intermediate suspended nine.
Rogers said there wasn't a drug problem at Manurewa.
"You can go to schools anywhere and you can see students selling to students," he said.
The school took a hard-line stance on drugs last year.
New principal Iain Taylor said: "We needed to make a stand to let students know that drugs were unacceptable in the school environment ... to change the agenda that it was the adults setting the tone, not the children, and we needed the children to come on board to let them know it was unacceptable.
"Unfortunately it's also a result that's indicative of the community in terms of drugs and what goes on outside the school."
He said this year had been much better.
Foundation for Alcohol and Drug Education (Fade) executive director Colin Bramfitt said the statistics confirmed what was already known anecdotally.
More schools were seeking help from Fade, because of the numbers of children using drugs. "We know that kids are using drugs at younger and younger ages," said Bramfitt.
Secondary Schools Principals Association president Patrick Walsh said drug problems in high schools could start at primary and intermediate stage.
He wanted to see stronger police intervention.
"These are the students who are at greater risk of not achieving and being involved in criminal or anti-social behaviour," he said.
"I recommend the police execute a search warrant on the houses [of parents].
"The police have to come down hard and prosecute the parents because they're clearly at risk."
National manager of the Police Youth Services Group, Superintendent Bill Harrison, said police were not always notified when pupils were found with drugs.
"There's no denying that children in possession of drugs in schools is a significant concern and that's the way it's treated by us."
Drug Foundation executive director Ross Bell blamed parents and family environments, particularly older siblings, for young children getting involved with drugs:
"Unfortunately there are kids growing up in bad homes and they're playing up and getting into trouble. Kids copy what their parents do.
"This goes to the parents - that they need to be careful what they do in their homes - that they're not getting boozed up or smoking cannabis in front of their kids."
Labour's education spokesman, Trevor Mallard, said police and Child, Youth and Family (CYF) should be told of every drugs case in primary and intermediate schools.
"The sharing of this information could well help the kid in the long run. It might be that CYF and police decide to do nothing but they should have that information.
"That's something that the minister should look at."
But Education Minister Anne Tolley indicated on Friday that was unlikely. "This issue should be of concern to everyone - parents, communities, boards of trustees and teachers," she said.
"Boards manage schools and develop their own policies - and most would notify the police or CYF in the event of a drugs issue. That's a commonsense approach - and schools shouldn't need the Government to tell them that."
Children's Commissioner John Angus said this should be treated as a serious health issue. It shouldn't just be about disciplining the young person.
"Good information about the severely adverse impact on brain development needs to be provided to schools, parents and young people themselves."