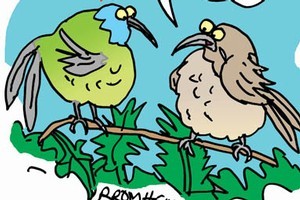 Come winter, everyone worries about putting on weight. But not the bellbirds on Tiritiri Matangi Island - they're stealing sugar water meant for a rarer counterpart and are packing on the beef.
The cheeky green birds, also known as korimako, have ballooned in size over the past few years. Researchers and Department of Conservation staff have blamed it on the birds' thieving ways - they are taking sugar-treated water meant for the stitchbird, or hihi.
A Massey University scientist, associate professor Dianne Brunton, said masters student Shauna Baillie discovered the phenomenon last year. While researching bellbirds on the island she noted they were the biggest in the country.
"Apart from them being plump, the bellbirds are doing well," said Brunton. "They're feisty little things and they're extremely determined to get to the water." A recent project to move bellbirds to sites on the Hauraki Gulf and the Waikato had made the birds' weight very noticeable, Brunton said.
Warkworth DoC biodiversity manager Rory Renwick said there was no easy solution.
"People have put thought to it but no one's come up with anything. Basically the feeders are there to provide food for the hihi. We've tried to exclude the bellbird but there's not much difference in size to the hihi.
"The hihi are still able to get what they want - we just have to provide extra for the bellbirds. It just makes lots of extra work for us." Renwick said greedy bellbirds on Kapiti Island near Wellington were a problem for DoC staff as staff had to lug extra feed around the island to keep up with consumption.
"On Kapiti Island they have to carry hundreds of litres of water up the hill by hand."
Renwick said, as a rough estimate, most of the feed meant for the hihi on Kapiti Island was being eaten by bellbirds and roughly half was being eaten by the bellbirds on Tiritiri Matangi.
"Even though the bellbirds are taking the food, the hihi are breeding well."