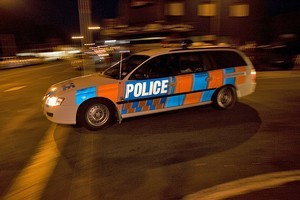 A teenage driver on a restricted licence who sped down Auckland's Northern Motorway at 200km/h has been accused by police of "mind-boggling stupidity."
The 19-year-old - whose licence meant he should not have been driving solo after 10pm - was heading south past Tristram Ave about 12.40am yesterday when clocked by a stationary police patrol.
He was driving a BMW car with a V12 engine, capable of a top speed of 250km/h.
When police caught him, the driver had crossed the harbour bridge and reached Fanshawe St in central Auckland, a distance of almost 10km.
Acting Inspector Grant Miller of the motorway police said the youth appeared oblivious to the presence of the patrol car until he was stopped, and his explanation for his death-defying stunt was: "It was stupidity."
Mr Miller said the driver's restricted licence was automatically suspended for 28 days, although he had already amassed enough demerit points to be grounded for a longer period.
A court date has yet to be set, but the speedster faces a maximum penalty of three months in prison, a mandatory six months' disqualification from driving and a fine of up to $4500.
Waitemata road policing manager Superintendent John Kelly said travelling at 200km/h was an act of "mind-boggling stupidity".
The police can recall only two instances of higher speeds on Auckland's motorways, one at 208km/h in Manukau several years ago and the other at 242km/h reached by a Chrysler car near Silverdale.
BMW spokesman Edward Finn said the BMW 850 was from a series which had its speed "limited" to 250km/h for safety purposes.
Asked why it was not limited to lower speeds, he said many BMWs were manufactured in Germany where there were no general speed limits on the autobahns, and the cars needed to be capable of travelling fast in controlled racing events.
It was unclear how fast the restricted licence-holder was travelling when he reached the harbour bridge, but a police serious crash investigator said it would not have been possible to get around the sharp corner at its southern end at more than about 120km/h.
Traffic Institute vice-president John Gottler said it was unfortunate that the Government had refrained from limiting holders of restricted drivers' licences to cars below a certain power ratio, even though learner motorcyclists were not allowed to ride anything more powerful than 250cc.
Mr Gottler also believed that the police should have the power to impound vehicles driven at dangerous speeds.