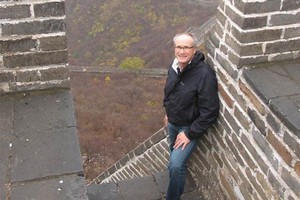 The Air New Zealand pilot missing on a hiking trail in Hong Kong is well-versed in survival techniques, the airline's chief pilot says.
First Officer Steven Morrissey was last seen tramping the Wilson Trail in the New Territories on Wednesday.
The 51-year-old Boeing 777 pilot was due to have flown to London yesterday.
The Hong Kong Tourist Board says the trail, which extends from Hong Kong island to the mainland New Territories, is recommended only for experienced hikers as the terrain can be hard going.
Auckland Hong Kong Festival co-ordinator Bevan Chuang, who is familiar with the trail, described it as "dangerous and very challenging".
"There are many areas where the paths can be very narrow and hikers can just slip and finding someone can be very difficult," said Miss Chuang, who is from Hong Kong.
Seventy Hong Kong police and other officials conducted a dawn-to-dusk search yesterday, but failed to find Mr Morrissey.
His two sisters and sister-in-law have flown to Hong Kong with senior airline officials to help.
Air NZ's chief pilot, Captain David Morgan, who accompanied the family from New Zealand, told Radio NZ that there had been nothing to suggest foul play.
Mr Morrissey was walking with Captain Mark Apperley on the Wilson Trail in the New Territories on a day off. They became separated when Mr Apperley took a rest, and Mr Morrissey failed to meet him at the end of the track about a kilometre away, as they had agreed.
After waiting for an hour, Mr Apperley returned to their hotelto raise the alarm.
The area where Mr Morrissey disappeared was fairly easy terrain, Mr Morgan said.
"They had water and a backpack, I understand they did have some other provisions. Steve himself is a very fit person, he's been tramping for a number of years and he's certainly well-versed in survival techniques as well from his earlier career in the RNZAF."
The Hong Kong Standard reported police as saying the search did not start until Thursday because they had not been informed of his disappearance until late on Wednesday night.
- ADDITIONAL REPORTING: NZPA