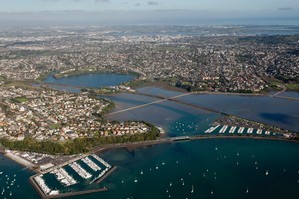 Panmure residents are wondering if a new road through their suburb is the first stage of a revived eastern highway across Hobson Bay to the city.
A $1.33 billion package of eastern suburbs transport works retains all the elements necessary for reviving the eastern highway, Panmure Community Action Group spokesman Keith Sharp said yesterday.
"We wonder if there is any good reason for retaining the hugely expensive trenched option for the north-south route through Panmure when the currently proposed road is supposed to go no further than Glen Innes," he said.
Mr Sharp produced a 2007 plan for the Ameti (Auckland-Manukau eastern transport initiative) project showing the northern route continuing from Merton Rd in Glen Innes to St Johns Rd in Kohimarama.
"Once at St Johns it's just over the hill and down the other side to Purewa Creek."
Auckland City Mayor John Banks yesterday said the eastern transport corridor was well and truly buried.
Auckland City's transport general manager Penny Pirrit and transport chairman Ken Baguley - a Citizens & Ratepayers councillor whose political ticket previously supported the eastern highway - also said the Ameti project was not a precursor to reviving the highway.
Ms Pirrit said extending the northern route further than Merton Rd was beyond the scope of the project. The uncosted road would initially have two lanes, but, long-term, the plan was to make it four lanes.
A transport designation over the eastern corridor was confirmed in 2006 after anti-highway councillor Richard Simpson sought to have it lifted.
Mr Sharp said too much of the Ameti planning had occurred without genuine public consultation, with all major decisions being made before the public were aware of the implications.
He said planners had been allowed to adapt old plans for the eastern highway to fit Ameti, which were two different projects.
"The eastern highway was designed to link Manukau City with the Auckland CBD. Ameti is intended to facilitate traffic movement into and out of the Tamaki areas of Panmure and Glen Innes."
The new north-south road would come off the Mt Wellington Highway, go behind the back of the Harvey Norman Centre and through a trench under the Ellerslie-Panmure Highway.
It would emerge at ground level on the western side of the railway line and extend to Merton Rd.