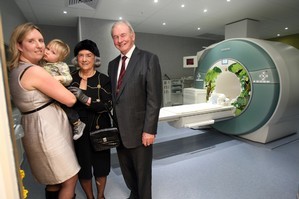 The family behind Douglas Pharmaceuticals have given the Starship $3 million, the largest personal donation ever for the children's hospital, to help pay for a new medical scanner.
Sir Graeme Douglas, the company's 81-year-old managing director, and his wife, Lady Ngaire, attended a function at the Auckland hospital yesterday and met one of the children who will benefit from their generosity.
Mt Albert 19-month-old Oliver Jujnovich is in remission following chemotherapy to treat cancer in his abdomen, but needs ongoing check-ups from a magnetic resonance imaging (MRI) scanner. He is one of around 2000 children a year who will be scanned with the new machine.
Previously, children under general anaesthetic, with their families and doctors, were taken for MRI scans at the adjacent adults' hospital or the medical school, connected to the hospitals by a tunnel under Park Rd.
Oliver's parents said it was daunting to have to go to a different, unfamiliar facility for scans.
"Everything is easier all in one place," said his father, Michael Jujnovich.
Starship staff are looking forward to putting their first "magnet" into use immediately. They say MRI has proved such an invaluable, safe, non-invasive medical tool that the number of the scans performed on their patients more than trebled from 2002 to 2007.
Sir Graeme, a regular donor to the Starship, said he and his wife quickly decided to make their gift after he was taken on a tour of the hospital last year and learned the Starship Foundation charity was trying to raise money for the scanner.
It needed to raise a large sum quickly to take advantage of an offer from the MRI machine's maker, Siemens - "and raising a serious amount of money takes time, a lot of time".
"It gives us great pleasure to ensure Starship hospital has its own MRI facility to avoid the delays and discomfort currently experienced by young patients."
The foundation's chief executive, Andrew Young, said such a large donation was unprecedented in the charity's 18-year history.
"We're so grateful and overwhelmed by this generous donation as charitable gifts at this level are almost unheard of in New Zealand."
The Auckland District Health Board's radiology manager, Raewyn Curin, said the machine and associated construction cost $4.77 million.