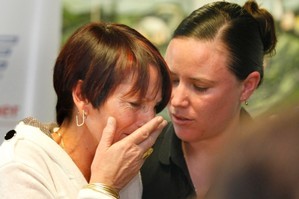 Police have revealed missing Auckland woman Carmen Thomas's cellphone and wallet, which had her driver's licence and money cards inside, have also disappeared.
They are among a number of personal items police told the Weekend Herald they were looking for after a press conference yesterday at which the 32-year-old's mother broke down. She had been asked if she was prepared to hear her daughter might be dead.
Teresa Scott, 55, arrived from South Africa last Friday to help in the hunt for Ms Thomas, who has a 5-year-old son and worked as an escort in Pakuranga. She was last seen in Auckland on July 1.
Ms Scott said at the Auckland police station yesterday that she last spoke to her daughter about nine weeks ago via email.
"At that stage she said she'd been a bit ill, not quite sure what was wrong ... We didn't correspond that regularly. We had a bit of an upside-down relationship.
But I was always there. We wouldn't speak to each other, or should I say keep in contact with each other, for a couple of months."
When Ms Scott saw her grandson Jack this week, it was the first time since he was about five months old and Ms Thomas took him to South Africa.
"I've spoken to him a few times on the telephone, birthdays, Christmas, etc ... We explained to him who I was and he was quite a happy little boy, a normal little 5-year-old, runs around, kicks a ball. But he is missing his mum."
Ms Scott revealed her daughter had come to New Zealand from England for Jack's dad, whom she met in the UK and later separated from. She had a marketing degree and had initially worked at a recruitment agency when she moved to Auckland.
Ms Scott burst into tears and was escorted away from the media representatives by a constable when she was asked: "How prepared are you for the fact that she might not be found alive?" She replied: "Sorry, I cannot discuss that right now."
This week, police said they were looking for Ms Thomas's turquoise handbag, the car keys to her Nissan Pulsar - which was found abandoned in Hamilton four days after she disappeared - and a tyre that had been taken off the vehicle and replaced with a space saver.
Car jack equipment is also missing.
Detective Inspector Mark Benefield told the Weekend Herald police believed Ms Thomas's cellphone and wallet, which had her driver's licence and money cards inside, were inside the handbag. Officers were still working to get a detailed description of the items and establish what else was inside the bag.
Her bank accounts had not been touched since she disappeared.
A scene examination had been conducted at Ms Thomas's flat in Remuera and police were still waiting for results. Their "eyes are going square" looking through hundreds of hours of CCTV footage from local businesses.
Police had spoken with Ms Thomas's former partner at length.
"We've had several conversations ... He's given us an account of their relationship and how they met - as much information as he can to help us."
Police said they had received dozens of calls after an appeal from Ms Scott on the Police Ten 7 show on Thursday night.
MISSING ITEMS
* A turquoise-coloured handbag belong to Carmen Thomas (left) with her cellphone, wallet, driver's licence and Eftpos cards inside.
* Her car keys (no description).
* A tyre from her Nissan Pulsar, either Goodyear or Skypower (Bridgestone) brand with a silver Nissan hubcap. Size: 175/70-13.
* Car jack equipment.
Anyone with information is urged to phone 0800-537-753 or the anonymous Crime Stoppers line on 0800-555-111 or email whereiscarmen@police.govt.nz