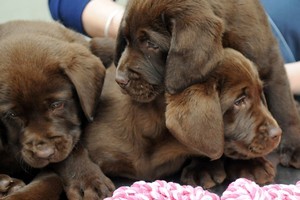 Police investigating the slaying of Manawatu farmer Scott Guy are following up reports of a woman trying to give away chocolate coloured Labrador puppies in a Palmerston North car park.
Mr Guy, 31, was found dead in the driveway of his home on Aorangi Rd, south of Feilding, on July 8.
A post-mortem examination confirmed he died from several gunshot wounds.
On Wednesday, police said they were investigating whether the disappearance of three chocolate labradors from Mr Guy's property on the day of his death was linked to the murder.
Police tonight said they were investigating reports of a woman trying to give away chocolate labrador puppies in the carpark of The Warehouse in Palmerston North on Wednesday.
A woman pulled into the carpark, on Pioneer Highway, in a dark coloured stationwagon about 3pm and offered customers in the carpark a puppy.
The woman indicated she was giving the puppy away, rather than selling it.
Two other puppies were seen in the front seat of the woman's car.
Detective Inspector Sue Schwalger said police needed to identify the woman to establish whether the puppies came from Mr Guy's property.
"Police would ask the woman who had the puppies to come forward so she can be eliminated from the inquiry."
The woman was described as Caucasian, about 165cm tall and of slim build, with long sandy blonde or light brown hair tied in a ponytail.
She was wearing a blue polar fleece jersey or jacket.
Two small children were in the back of the car.
Police asked anyone with information on her identity to come forward.
Police Central Districts spokeswoman Kim Perks told NZPA earlier today appeals over the puppies had elicited about 25 calls from members of the public, and 37 staff were now engaged in the hunt for Mr Guy's killer.
The stolen puppies were among a litter of eight housed in an outbuilding on the property about 80m from where Mr Guy was shot.
The puppies were last seen about 5pm the previous day when they were fed by a family member.
Chocolate labrador puppies were worth anything between $100 to $800 each, depending on breeding.
Mr Guy and his wife, Kylee, had advertised six of the litter for sale on flyers in local businesses, for about $700 each.
Police were asking people who had seen the advertisement and called the number to come forward.
Police are yet to establish a motive for the murder and are looking into Mr Guy's background.
On the day of his murder, Mr Guy got up early as usual to go milking and drove his ute to the end of his driveway.
He stopped and walked around to the front of the ute, and it was then that he was shot and killed, some time between 4am and 7am, police said.
- NZPA